Sometimes eating spaghetti is like a short holiday in Italy. 🇭🇺🍝☀️
Sitting on your balcony or in your garden, the evening sun shining warm on your skin, the birds are chirping, the wind is rustling in the trees, and on the table in front of you a large bowl of fresh, steaming pasta is waiting for you to indulge.
The mouth-watering smells of lemon, basil and garlic are wafting in the air.
Is your stomach already starting to growl?
Then let's create a little get-together around the stove. Cause today I'll reveal my recipe for these delicious vegan super garlicky chili lemon spaghetti with cherry tomatoes.
I absolutely love the combination of lemon and garlic. This fact totally took me by surprise a few years ago.
The lemon juice gives the pasta a summery touch. The garlic makes the whole dish hearty and typically Italian. And with basil and tomatoes you can never go wrong with pasta anyway. The chilli flakes give the noodles a pleasant spiciness, which you can easily adjust to your taste. Add a dash of good olive oil and your summer pasta is ready.
Buon Appetito!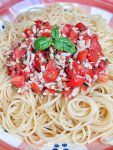 Super garlicky Chili Lemon Spaghetti
The perfect summer pasta: prepared in the wink of an eye, light and fruity, with just the right amount of spicyness. And if you love garlic as much as I do, this will quickly become your new favorite pasta recipe.Looks like Italy in a bowl ❤️♡💚
Tags:
chili, garlic, lemon, pasta, plant-based, Spaghetti, summer food, vegan
Ingredients
250

g

spaghetti,

or other pasta of choice

2

Tbsp

native olive oil

1

bulb of garlic

200

g

cherry tomatoes, quartered

1/2

tsp

garlic powder

1/2

tsp

chilli flakes,

(or more, if you like it hotter)

2-3

lemons,

(depending how juicy they are)

1

handful of

fresh basil leaves, chopped

1

tsp

maple syrup,

(optional)

pinch of salt & pepper
Instructions
Cook the pasta of your choice 'al dente', according to the package instructions. Then drain and put in a large pasta bowl.

While your pasta is cooking, peel your garlic cloves and finely dice them.

Heat the olive oil in a pan over low heat and allow the garlic to sauté for 1-2 minutes (make sure it does not turn brown). Add the cherry tomatoes and simmer for 5 more minutes. Season with pinches of salt, garlic powder and chilli flakes.

Now you squeeze your lemons and pour the juice into a bowl, followed by the chopped basil and the maple syrup. When the tomato-garlic mixture is ready, add it to the bowl. Stir and season with salt and pepper.

Pour the finished sauce over your pasta, mix everything together and enjoy. If you're feeling fancy, you can sprinkle it with nutritional yeast or some vegan nut parmesan.
Notes
• The pasta will easily become low fat by simply adding water (or vegetable broth) instead of oil to sauté.  • Leftovers can be eaten cold the next day. It tastes like a garlicky pasta salad then.    I always choose organic produce whenever possible. It's not only much better for my health (and yours, too), but also for our environment. 🌍💫💚