Are you a soup lover?
To be honest, I like soups most in autumn and winter, but today was one of those days, when I just needed a soup to cheer me up. It worked perfectly though. Now that I'm a content girl with a belly full of soup goodness, I'm ready to share this recipe with you.
This soup is my go-to recipe, when I need something warm and nourishing. I love the combination of fruitiness and spice, as well as the cozy color. It's topped with coconut yoghurt for some cool freshness, roasted pumpkin seeds for a little crunch, and some dried chili flakes for extra spice.
You could also use sunflower seeds, almonds or walnuts.
And some halved cherry tomatoes would give it a nice little twist.
Now get your big soup pot, some veggies, and start cooking! 💚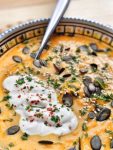 Pumpkin Apple Coconut Soup with Curry flavour
This creamy soup has a perfect balance of fruity and spicy.
It's very moreish and the perfect soulfood. Enjoy! 💚
Course Tags:
Main Course, Soup
Tags:
coconut, curry, gluten-free, plant-based, pumpkin, soup, vegan
Ingredients
• 1 Tbsp coconut oil

• 1 yellow onion, diced

• 1 thumb fresh ginger, diced

• 1 Hokkaido pumpkin, cut into cubes

• 2 apples, cored & diced,

(e.g. Pink Crisp or Braeburn)

• 4 medium carrots, thinly sliced

• 500 ml vegetable broth

• 200 ml coconut milk

• 2-3 tsp of your favourite English Curry powder,

depending on how spicy you like it

• 1/2 tsp garlic powder

• 1/2 tsp ground coriander

• 2 Tbsp soysauce or tamari for GF

• 1-2 Tbsp maple sirup

• salt and pepper to taste
For decorations:
coconut yoghurt, pumpkin seeds, sesame seeds, chili flakes, fresh herbs
Instructions
Heat the coconut oil in a large pot over medium high heat, then add the onion and ginger, and sauté for about 2 minutes or until onions are soft. Be careful not to let them brown too much.

Add pumpkin, apples and carrots to the pot and stir for about 1 minute. Then add the veggie broth and turn the heat up a little bit, so it starts boiling. Cover and let it cook for 20 minutes (or until the pumpkin and carrots are soft).

Take it off the heat, add the coconut milk, and use a blender to make it all creamy with no veggie lumps left.

Put it back on the stove over medium heat and add all your spices, the soysauce, and maple sirup. Let it simmer for 5 more minutes, taste and adjust flavors to your liking.

Top the soup with coconut yoghurt, roasted seeds, and a pinch of dried chili flakes. Enjoy with a crunchy slice of fresh bread.
Notes
I always choose organic produce whenever possible. It's not only much better for my health (and yours, too), but also for our environment. 🌍💫💚💚