For me, mushrooms belong to autumn, like cherries to summer and cookies to Christmas time. And what else must not be missing once autumn is here? Soul food, of course! Something that not only warms the body, but also your soul. Like my Vegan Sweet Potato Mushroom Lasagna.
A slice of this lasagna has everything you need to be happy: delicious pasta layers that float in creamy & slightly cheesy  sauce (thanks to nutritional yeast 😋). And in between hearty mushrooms and crisp vegetables. A fresh almond yoghurt cream provides even more creaminess and fruity cherry tomatoes are the cherry on top. Yum, I already get hungry again just writing about it. 🤤
The recipe for this lasagna was a lucky coincidence somehow. As the beautiful bright yellow 'cheese sauce' is originally from a mac & cheese recipe (which I've been tinkering with for a while). But my gut feeling told me that it would certainly fit very well in a lasagna. And as so often, my stomach was absolutely right.
The sauce is a little dream come true. 💛 Sweet and spicy at the same time, the sweet potato gives it a great creaminess, the onion provides roasting flavors & it simply tastes very moreish. Sunflower seeds & hemp seeds not only give it a creamy consistency, but also provide valuable omega-3 fatty acids, B vitamins, iron, calcium, magnesium and plant-based protein.
Hooray!! 🙌 A lasagna that is delicious AND healthy. Can it get any better?
Unlike the classic lasagna, there is no tomato sauce in here and I haven't tried to replace the minced meat with a soy alternative. For me, the mushrooms are the secret stars of lasagna and there's no need for 'distraction'.
Maybe you have already heard that mushrooms are great vitamin D suppliers. But did you know that the little guys are real umami bombs? Umami is next to sweet, sour, bitter & salty one of the 5 flavors. And a dish only tastes really good, if all 5 flavors are represented. By roasting the mushrooms you create this umami flavor and give this dish that certain something.
The lasagna gets an additional bite from a mix of sautéed vegetables. Feel free to use your favorite veggies here. I decided on red peppers and zucchini today. By the way, this gives the whole thing some nice splashes of color.
Like any completely homemade lasagna, this one is a little time consuming, too. To save time, you can prepare the sauce, vegetables and mushrooms the night before. Then, if your stomach growls and you want to start cooking, you just need to layer the lasagna quickly while the oven is preheating, and half an hour later, there's nothing in the way of pleasurable feasting.
While the lasagna is baking, there's enough time to set the table nicely and maybe even prepare a crisp garden salad as a side dish. Or how about doing a bit of yoga for relaxation? 🧘✨😉 The lasagna will taste twice as good afterwards.
So quickly get yourself some mushrooms, whether in the woods or at the farmers market is totally up to you.
Enjoy your delicious veggie lasagna! 💛 xo, Romy
Do you like my recipe? Say hello & leave me a little comment. Or simply follow me on Bloglovin to never miss a new post!
Thanks so much for sharing the love 😘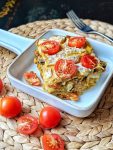 Vegan Sweet Potato Mushroom Lasagna
The perfect autumn lasagna, completely plant-based with delicious mushrooms and lots of vegetables. And a super creamy 'cheese sauce', which makes the lasagna really special and very moreish.
Course Tags:
Dinner, Lunch, Main Course
Tags:
dairy-free, lasagna, mushrooms, plant-based, sweet potato, vegan, vegetarian
Ingredients
For the 'cheesy' sauce:
1

sweet potato (250 g unpeeled)

1

tsp

olive oil

1

onion,

diced

2

garlic gloves,

diced

5

Tbsp

nutritional yeast

4

Tbsp

sunflower seeds

2

Tbsp

hemp seeds

1,5

tsp

vegetable stock powder

1

tsp

soy sauce

1

tsp

dried herbs*

1

tsp

paprika

1/2

tsp

garlic powder

1/2

tsp

turmeric

1/2

tsp

pepper

1,5

cups

oat milk OR water
For the mushrooms:
200

g

champignon mushrooms

100

g

oyster mushrooms

70

g

shiitake mushrooms

1

Tbsp

olive oil

1

Tbsp

soy sauce

1/2

tsp

paprika

1/4

tsp

garlic powder

1

pinch of

pepper
For the veggies:
1/2

Tbsp

olive oil

1

red onion,

diced (yellow is fine, too)

1

small

zucchini,

quartered lengthwise & sliced

1

red bell pepper,

deseeded & diced

pinches of

salt, pepper & herbs
For the almond yoghurt sauce:
1,5

cups

soy joghurt

1

heaped Tbsp

almond butter (100% almonds)

1

Tbsp

lemon juice

1

tsp

tahin

1/2

tsp

garlic powder

pinches of

salt & pepper
Additionally:
uncooked lasagna pasta

12

cherry tomatoes,

halved

1

Tbsp

sesame seeds
Instructions
For the 'cheesy' sauce:
Peel the sweet potato, dice roughly and steam for 15 minutes.

Meanwhile, heat the oil in a pan and sauté the onion and garlic until golden brown. Set aside.

Put the steamed sweet potato, the onion-garlic mixture and all remaining ingredients in a good blender and blend until creamy for half a minute.

For the mushrooms:
While the sweet potato is steaming, you can sauté the vegetables and mushrooms.

Clean the mushrooms and cut into slices.

Heat the oil in a pan and add the mushrooms. Do not stir too often, so that the mushrooms can roast well and form roasted flavors. Season after 5 minutes and sauté for another 2 minutes.


Then set aside.
For the veggies:
Heat the olive oil in a second pan and lightly brown the onion cubes.

Then add the vegetables, sauté over medium heat for about 5 minutes and season with a pinch of salt, pepper and herbs just before finished. Set aside.

For the almond yoghurt sauce:
Simply mix all ingredients together well.
To make the lasagna:
Preheat the oven to 200°C | 390°F.


Prepare a rectangular casserole dish and spread 2 Tbsp of cheesy sauce on the bottom.


Place 3 lasagna plates on top (break them if necessary) and spread 2 Tbsp of cheesy sauce on top. Distribute 2 Tbsp veggies and 2 Tbsp mushrooms on top.

Put 3 more lasagna plates on top and spread 2 Tbsp cheesy sauce on top. Add 2 Tbsp almond yoghurt sauce and put 3 lasagna plates on top.

Continue alternately (once veggies & mushrooms - once almond yoghurt sauce) until your casserole dish is full. In my case that was 4 layers each.

The last layer is cheesy sauce and almond yoghurt sauce, then sprinkle on the sesame seeds and decorate with the halved cherry tomatoes.

Bake the lasagna for 30 minutes and enjoy!
Notes
*I use this
herbal mix
. I absolutely love it. 💚   I always choose organic produce whenever possible. It's not only better for my health (and yours, too), but also for our environment. 🌍💫💚