Do you also have this amazingly perfect barbecue weather right now?
We've been having  it here for almost every night for weeks. ☀️ And what should be part of every vegan barbecue, except crispy baguette, corncobs & vegetable patties or marinated tofu?
A summery salad of course! 🥗
Apart from the classic green garden salad, I always like to put a fruity-spicy creation on the table. Today we're having Sweet Potatoe-Quinoa-Mango Salad.
The inspiration for this delicious salad come from the lovely Fee of Feeistmeinname. In the course of the years (I'm outing myself with this as a faithful reader ☺️) I've already tried some of her recipes and this salad is, in a modified form, a regular on our table now.
Fee's recipe isn't vegan and she uses crayfish and mozzarella, or feta with it. Of course you could use vegan alternatives for this, but today I chose sunflower seeds as the source of protein (26.5 g | 100 g).
Not only do they have more protein than most fish and meat types, they also have a lot of folic acid, magnesium, vitamin E & unsaturated fatty acids. These small seeds are  real power packages for sure. 🤩
Anyways, back to our salad: mango and blueberries are the fruity component that give the salad it's summer freshness. (Peaches and grapes would work well, too.) Sweet potato and quinoa are satisfying & filling and make the salad a complete meal. The sweet mustard dressing is the last missing piece and makes the salad perfect.
So come on, this summer won't last forever. Invite some friends over for BBQ tonight &  also serve this yummy Sweet Potato-Quinoa-Mango Salad.
Have fun creating it in your own kitchen & bon appétit! 💚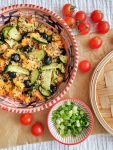 Fruity Sweet Potatoe-Quinoa-Mango Salad
A summery fresh salad that wonderfully combines fruity and spicy flavours. Perfect for your next BBQ or as a light lunch in the warmer seasons.
Course Tags:
Salad, Side Dish
Tags:
gluten-free, mustard dressing, plant-based, salad, summer food, sweet potatoe, vegan, vegetarian
Ingredients
For the salad:
1

sweet potatoe (approx. 300 g)

2-3

Tbsp

sunflower seeds*

1/2

cucumber

200

g

cooked quinoa (I used a color mix)

1

ripe mango, diced

100

g

blueberries (the big ones)
For the dressing:
3

tsp

mustard

1

Tbsp

maple syrup

8

Tbsp

white balsamic vinegar

1/2

tsp

garlic powder

1

Tbsp

native rape oil

pinches of salt & pepper
Instructions
Peel the sweet potatoe, cut into 2 cm cubes and steam for 10 minutes until soft but not mushy.** Set aside to cool.

Meanwhile, fry the sunflower seeds in a pan without oil over medium heat until they slightly brown (about 5 minutes). Stir regularly and be careful not to let them burn. Then place in a bowl and set aside.

Halve the cucumber lengthwise and cut into thin slices. Place in a salad bowl along with the boiled quinoa, mango cubes, blueberries & cooled sweet potato cubes.

For the dressing, simply mix all ingredients in a little bowl and stirr until the mustard dissolves. Pour over the salad and mix in well.

Finally, fold in half of the sunflower seeds and sprinkle the rest over the finished salad. You can also sprinkle it with some sliced spring onion for a bit of green. 💚
Notes
*You can also use cashews or pine nuts.   **Of course, you can also boil the sweet potato in water for 5-10 minutes, but more vitamins will be preserved with steaming and the sweet potato cubes have a better consistency for a salad (not as mushy).   The salad tastes best on the day of preparation. But you can keep it in the fridge in an air-tight container for 1-2 days.   I always choose organic produce whenever possible. It's not only much better for my health (and yours, too), but also for our environment. 🌍💫💚   Inspired & adapted from
Fee ist mein Name
.