Soup season is finally here. Although it's still sunny almost every day, it's already much cooler and the days are getting shorter again. Autumn is right around the corner. 🍁🎃🍂
Are you looking forward to autumn or are you already mourning the end of summer?
I'm an absolute summer fan, but there are a few things that make autumn special for me: cuddling up in a warm blanket on the couch & read, collecting chestnuts & colorful leaves and eating soup all the time, of course. 🍜 It's the perfect way  to warm you up after a long autumn walk. 💛
The classic autumn soup choice is pumpkin soup for me, but today we'll whip up a fresh green on the plate: wonderfully creamy Peas and Coconut Soup with Ginger. Being cooked from fresh (or frozen) peas and not from the yellowish dried ones, the soup has a bright green color and tastes wonderfully fresh and lovely. The fresh ginger provides a slightly piquant spiciness and the coconut milk complements everything to a creamy exotic soup.
I garnished the finished soup with desiccated coconut and sprinkled it with my Roasted Seed Mix. It adds a delicious crunch. A dollop of cool coconut yoghurt would certainly do well on the soup, too.
This soup is wonderfully simple and quickly prepared. After only 20 minutes it's already steaming & fragrant on your table. And in case of leftovers, it also freezes very well.
Have fun cooking some soup and let me know how you like it. 💚 XO, Romy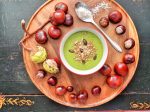 Green Peas & Coconut Soup with Ginger
Wonderfully creamy soup, whose bright green color gets you in a good mood anytime. 💚 It is plant-based and gluten-free and ready on your table in only 20 minutes. Enjoy!
Course Tags:
Main Course, Soup
Tags:
gluten-free, peas, plant-based, soup, vegan
Ingredients
1

Tbsp

virgin coconut oil

1

yellow onion,

diced

1

inch

raw ginger,

peeled & diced

2

garlic gloves,

diced

450

g

green peas,

fresh or frozen

1,5

cups

vegetable broth

1

tsp

curry powder

1/2

tsp

coriander

1/4

tsp

pepper

1

cup

coconut milk,

from a can
Instructions
Heat the coconut oil over medium heat in a large pot, add the onion and ginger and allow to sauté for a few minutes until the onions are glassy.

Then add the garlic and let cook for another minute.

Add the peas to the pot. Stir well and then pour in the vegetable broth.

Add the spices and let simmer for about 5 minutes.


Take the pot from the stove, add the coconut milk and purée the soup with a hand blender until creamy.

Bring the soup to a boil again, then taste and adjust seasoning if needed.

Fill the soup into some pretty soup bowls and decorate with desiccated coconut, a dollop of coconut yoghurt or crispy roasted seeds.

Notes
I always choose organic produce whenever possible. It's not only better for my health (and yours, too), but also for our environment. 🌍💫💚