Just 2 more days to go and we'll already have the 4th Advent. Can you believe it? Time practically flew by the last couple of weeks and Christmas is just around the corner. In other words, it's the perfect time for a little treat. Some sweet, chocolate-covered delicacy with an ooey gooey filling. I'm talking about my delicious Cookie Truffles with Cardamom & Pistachios. 💚 They shouldn't be missing at any Advent coffee table. After all, they made my family's eyes sparkle with pleasure last Sunday.
Are you already in the mood for Christmas? This weekend we are visiting my in-laws by the sea and hopefully spend some nice contemplative days with a lot of family time. 🙂
Luckily, all the gifts are already wrapped and so I'm spared the stressful last-minute shopping for this year. Have you got all your presents, too? If not, how about giving some delicious cookie truffles to your loved ones? Nicely wrapped, joy and pleasure are almost guaranteed . . . big promise! 😉
Now, of course, it would be especially great, if you had already baked some cookies. And maybe you even still have a little bowl of these standing around. All your cookie supplies are already nibbled I hear you say? Off to the kitchen you go and bake some new ones. And why not try my vegan Almond Moon Cookies as you're at it anyway? 🌙 'Cause these are the ones I've used for my indulgent cookie truffles.
The balls are really a special treat but luckily quite easy to prepare. The most challenging thing about it is to cover them with chocolate. But the little effort is worthwhile, because the dark chocolate coat provides a wonderful contrast to the sweet creamy-tender filling.
I always enjoy crumpling the cookies the most when preparing. Obviously I leave my kitchen machine in the cupboard and cheerily crumble the cookies with my hands instead. 🙂 Then just add cream cheese (I used vegan almond cream cheese), some icing sugar (I'm afraid these little balls aren't the healthiest treat, but they definitely make up for it by being so indulgent), apricot jam or apple sauce (for a slightly fruity note) and a few spices and knead well. Now, according to your preference, shape 30 small (Ø 1″|2 cm) or 12 large (Ø 2″|5 cm) balls, cool, cover with melted dark chocolate, cool again and enjoy. That's how easy it is. 😌 Incidentally, I decided to go for the larger version, because then I always have the feeling of nibbling a Petit Four. ☺️
The balls should be stored in the fridge and keep well for about 5-7 days. They taste best on the 2nd and 3rd day. By then they are beautifully pervaded and all the flavors could mix well. I'm really curious how you like my cookie truffles. Feel free to leave me a little comment, if you give them a try. 🙂
I wish you a Merry Christmas and a relaxed & reflective time with all your loved ones.
Happy holidays, I'll see you next week.
For now, I'll snack on a little cookie truffle, if you'll please excuse me. 💛 xo, Romy
Do you like my recipe? Say hello & leave me a little comment. Or simply follow me on Bloglovin to never miss a new post!
Thanks so much for sharing the love 😘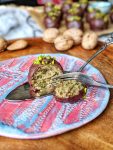 Cookie Truffles with Cardamom & Pistachios
A heavenly recipe for chocolate coated Cookie Truffles. The soft, creamy filling and the pistachio and cardamom flavor will give you the perfect pleasure moment.
Course Tags:
Dessert, Snack, sweets
Tags:
almonds, chocolate, cookies, pistachios, plant-based, vegan, vegetarian
Ingredients
10.5 oz |

300 g

cookies*

5 oz |

150 g

almond cream cheese

2

Tbsp

icing sugar

2

tsp

apricot jam

1/2

tsp

almond extract

2

tsp

cardamom

1

tsp

matcha powder,

(optional)

1/2

tsp

cinnamon

1 oz |

25 g

chopped pistachios,

(leave 1 Tbsp for the deco)

2 oz |

50 g

dark vegan chocolate

1/2

tsp

virgin coconut oil
Instructions
First, crumble all the cookies either by hand or with a food processor. There may well be a few bigger crumbs left. Put the crumbs in a large bowl.

Now add cream cheese, powdered sugar, jam and spices and knead everything to a slightly sticky dough. Fold in the pistachios, but put aside 1 tbsp of pistachios for later.


Make approx. 12 truffle balls with your clean! hands (Ø 2" | 5 cm) and place them on a plate lined with baking paper.

Then put the balls in the fridge for 30 minutes.

As the truffles cool, you can melt your chocolate.

Preheat the oven to 80°C | 175°F. Break the chocolate into small pieces and place in a porcelain dish in the hot oven. After 10-15 minutes, the chocolate should be completely melted. If not, just leave it in the off-turned oven for a few more minutes.

Once the chocolate has melted mix in the coconut oil.

Then get your cookie truffles out of the fridge. You'll also need a fork, a tablespoon and a wooden skewer.


Put a cookie truffle on the fork and hold it over the chocolate. Use the spoon to pour the chocolate over the cookie truffle until it is completely covered. Using the skewer chop the excess chocolate down on the fork and place the truffle back on the baking paper.


Repeat the process with the remaining truffles and at the end add some of the chopped pistachios to each truffle for decoration.


Put the truffles back in the fridge until the chocolate has solidified. Enjoy!

The cookie truffles taste best after 1-2 days, as they are properly pervaded then. Such a wonderful treat that can be prepared well in advance.
Notes
* I used 30 of my
Almond Moon Cookies
for it.   I always choose organic produce whenever possible. It's not only better for my health (and yours, too), but also for our environment. 🌍💫💚