Today is one of those winter days when my soul needs Vegan Sweet Dumplings (or Buchteln in german 🙂). They are fluffy, soft, vanilla-scented, slightly sweet dough balls with a golden-brown crust. Oh yes . . . My stomach starts growling already, just thinking about it. 😅
I prefer to dip my sweet dumplings into a fruity sauce. Today, I have them with blended cinnamon plums. But my Chia Mirabelle Compote would also be a great fit. Or how about a creamy, homemade Vanilla Sauce?
But before we are off to the kitchen, I'll tell you quickly about my weekend. Because after all, there is not just culinary soul food. 😉 Do the freezing cold, the wet, gray weather & the short days start to get to you (they pretty much do so to me  🤷‍♀️)?
Then here is a little insider tip for you to keep your soul happy and your feet warm:
Call your best friend and arrange a date with her for a day spent together in the spa followed by your favorite restaurant. That's exactly what I did last weekend and I can tell you, it was just heavenly. 💛
Unfortunately, my best friend lives a little further away and therefore we don't see each other as often as we would like to. Thanks to our husbands we had the whole day to ourselves and spent it together wisely (without our kiddos! Woohoo!). Just perfect to talk for hours and in detail about all the important bits & pieces in our lives. Perfection! We relaxed for 4 hours in the spa & sauna. And although I almost melted in the peppermint sauna, this was my absolute favorite. This and the fresh blood orange juice spritzer I always drink there 🍊
After this 4 hour relax marathon we went to my favorite Italian restaurant. Where they serve vegan pizza 🙌. With tomatoes, eggplant and fresh basil. 🍅🍆🍃 Sooo delicious! When it comes to eggplants, I always think of my delicious Eggplant Sandwiches right away, but that's another story. 🙂 Back to todays soul food or rather to the sweet dumplings.
I tried to make the dumplings a little healthier, without taking their sweet fluffiness. How it went?
Well, I guess I succeeded. I wouldn't share a recipe with you, that I'm not happy about after all. Here is how it's done:
You replace half of the flour with wholegrain flour, replace the sugar with maple syrup (or coconut blossom sugar) and the cream with plant milk. I took oat milk here, but soy milk works fine, too.
The plum compote for the fruit sauce is a store-bought one this time (for lack of time 🙈), but I have at least got one without any added sugar. Sprinkle a pinch of cinnamon over it, blend the whole thing and your delicious plum sauce is ready. Maybe even some splashes of lemon, if you like.
While the sweet dumplings are in the oven, I always take a peek every other minute to see how they are rising. This somehow makes me happy and giddy as a little kid. 😅 A heavenly scent gradually spreads in my kitchen and keeps me trapped near the stove, too. When the 30 minutes baking time are finally over, we are ready to go. 12 golden baked sweet dumplings are winking at me from their casserole dish and want to be dipped in plum sauce.
I'm doing them this little favor and start happily munching away. With a big glass of cool oat milk, of course. And my two favorite men, who are joining me and we enjoy this delicious soul-food together 😊
Well, are you craving some warm, fluffy sweet dumplings now? Then give my recipe a try and soar of to dumpling heaven. The dumplings are blissful soul-food and conjure up a smile on your face for sure. 🙂
Have fun baking and enjoy! xo, Romy
Do you like my recipe? Say hello & leave me a little comment. Or simply follow me on Bloglovin to never miss a new post!
Thanks so much for sharing the love 😘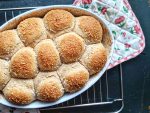 Fluffy, soft, vanilla-scented little yeast balls that taste like home. 💛 They are vegan & naturally sweetened with maple syrup. The perfect soul-food!
Course Tags:
Brunch, Dessert, Dinner, Lunch
Tags:
dairy-free, naturally sweetened, plant-based, soy-free, vegan, yeast
Ingredients
2 cups |

200 g

wheat flour | all-purpose flour

1+3/4 cups |

200 g

whole wheat flour

1/2

tsp

ground vanilla*

1

pinch of

salt

1

package

dry active yeast

1+1/4 cup |

300 ml

oat milk

3

Tbsp

maple syrup
Additionally:
coconut oil to grease your casserole dish

desiccated coconut (optional)
Instructions
Mix the flours, yeast, vanilla and salt in a large bowl.

Heat the oat milk & maple syrup in a saucepan to about 37°C | 100°F. This is important so that the yeast is activated and the yeast dough can rise nicely. It's best to test the temperature on the inside of your wrist. It should feel lukewarm there.

If the oat milk is too warm (over 40°C | 105°F), the yeast bacteria will die and your dough will turn stone hard after baking. So definitely test. 🙂

Add the milk to your flour mixture and mix everything with a fork. Then you knead the dough for about 5 minutes until it is smooth & flexible. It should neither stick to your hands nor be too dry.


If it is too sticky at the beginning, just add a little!! flour to it and continue kneading.


Form the dough into a ball, cover the bowl with a towel and leave it in a warm place (for example next to the heater) for 30 minutes. It should be twice as big afterwards.


While the dough is resting, you can preheat your oven to 175°C | 350°F and grease a casserole dish. I also sprinkled my dish with desiccated coconut.


Briefly knead the dough again and divide it into 12 pieces. Shape them into balls and place them in the casserole dish.

If you like, you can brush them with a little oat milk and sprinkle with desiccated coconut.

Bake dumplings for 30 minutes in the oven.

When they turn golden brown & crispy, they are done.

Serve the sweet dumplings with a fruity compote or creamy vanilla sauce.

Notes
*Or 1 tsp vanilla extract.   I always choose organic produce whenever possible. It's not only better for my health (and yours, too), but also for our environment. 🌍💫💚