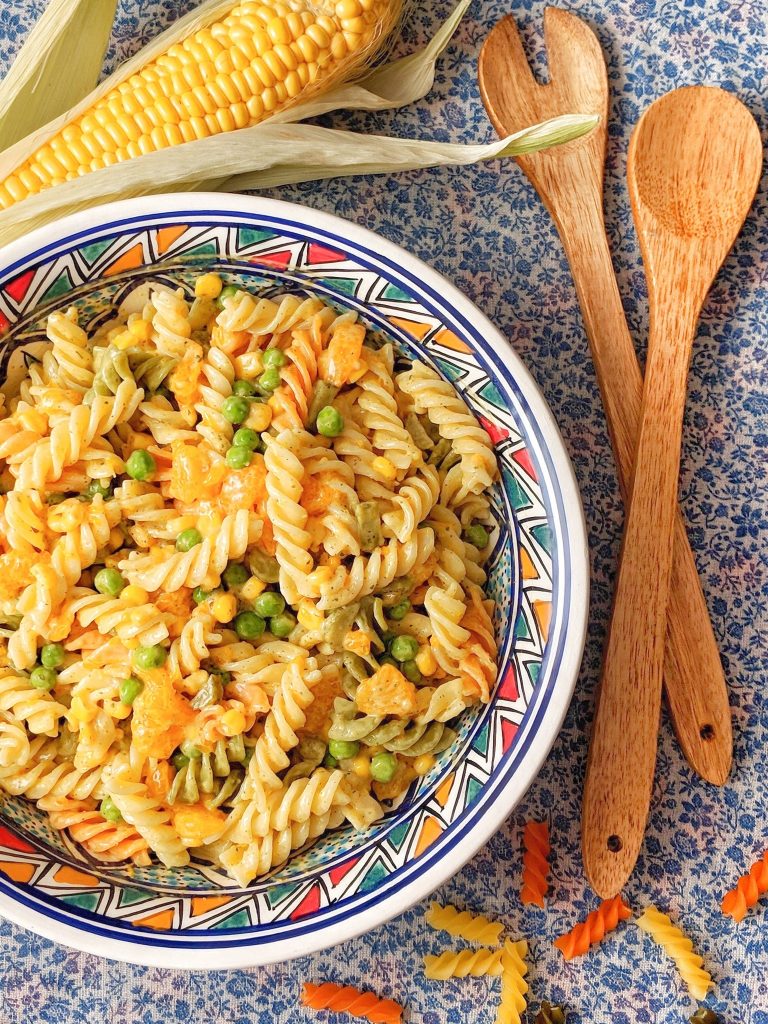 Do you have a favorite pasta salad? One you bring to every BBQ party you're invited to? Not yet? This may probably change soon! Because today I'll show you how to easily and quickly prepare my very favorite pasta salad.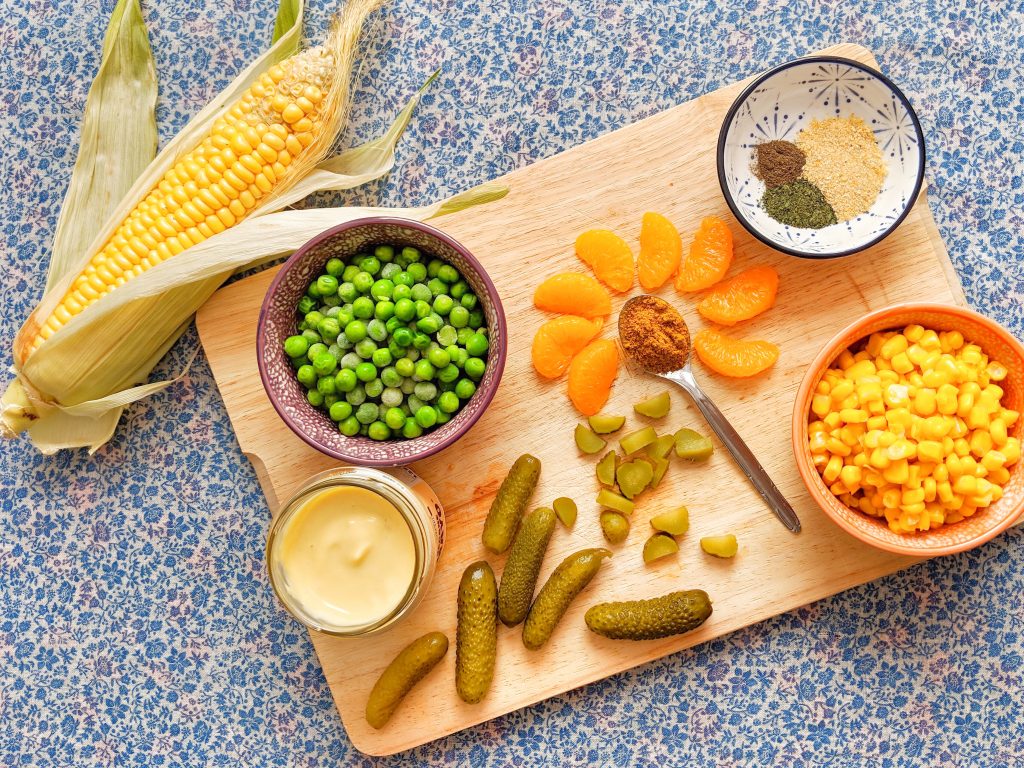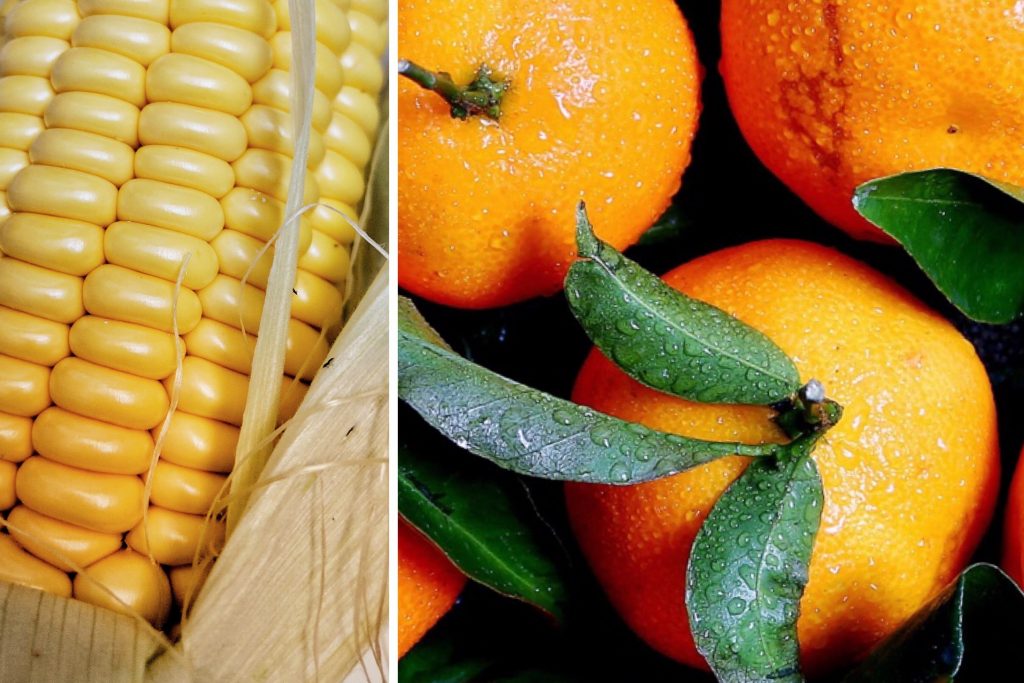 This pasta salad is a special one . . . with fruity tangerines, fresh peas and crisp sweet corn. And the creamy & spicy dressing combines everything to a super tasty and fresh pasta deliciousness. 💛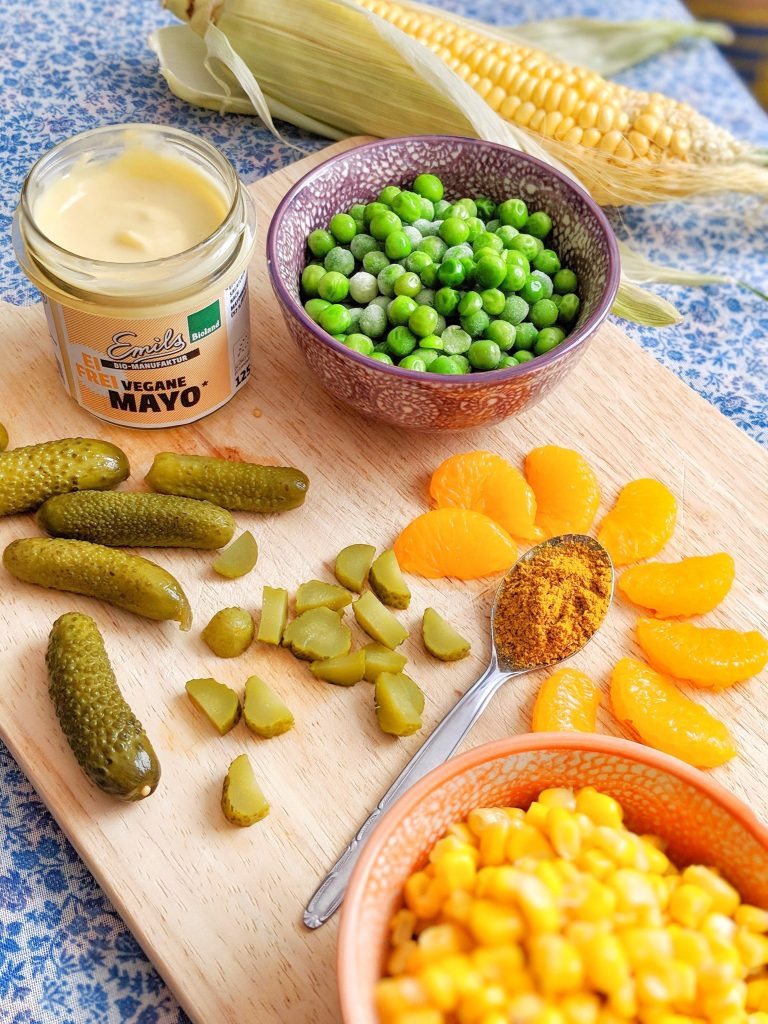 The inspiration for this recipe is from the mother of a friend. I found the idea of ​​tangerines mixed in pasta salad really strange at first. But when I had a taste, one serving quickly became a second. . . (and maybe even a third 🙈).
The "original" pasta salad was neither vegan nor vegetarian at that time, as it was prepared with regular mayonnaise and sausages. But when I changed my diet several years ago, I just adapted the recipe and tinkered around until the pasta salad was perfect for me.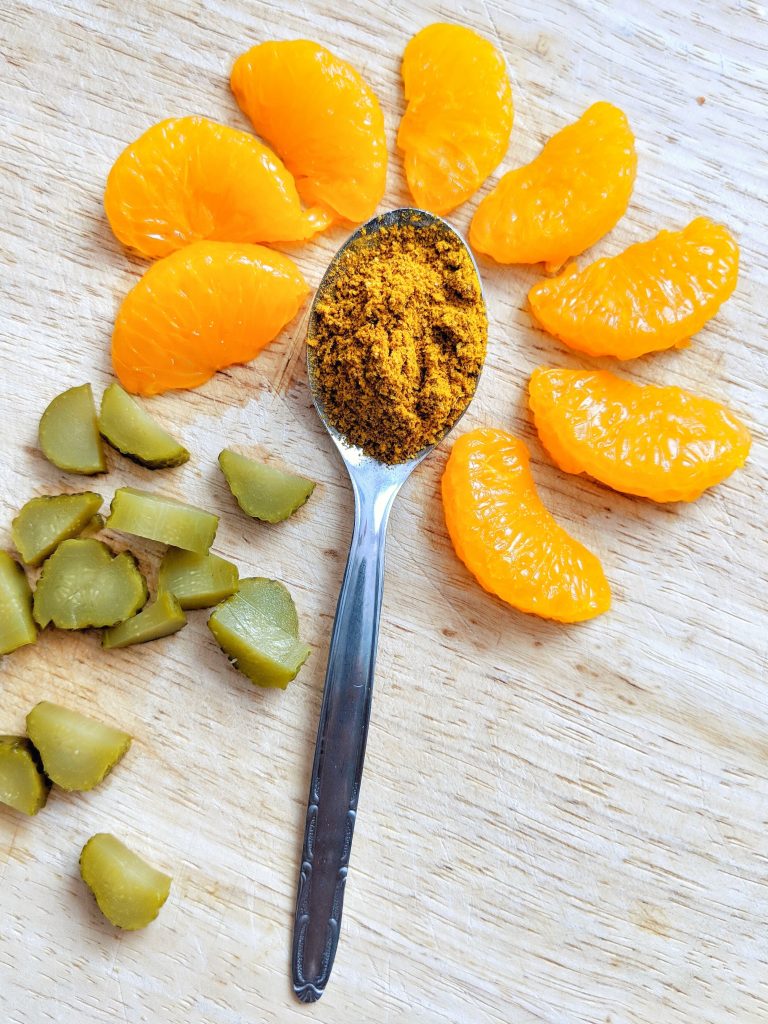 I really hope, you love this salad as much as I do. And maybe it'll even become your new favorite pasta salad. Bon Appetit!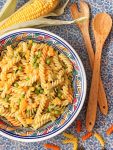 Corn, Peas & Tangerine Pasta Salad
Summery colorful pasta salad with fruity tangerines, fresh peas and crisp-sweet corn. It's quick & easily prepared. Perfect for bringing to BBQs and probably your new favourite pasta salad soon.

Course Tags:
Salad, Side Dish
Tags:
corn, pasta, plant-based, salad, tangerine, vegan, vegetarian
Ingredients
250

g

Spirelli pasta (or other pasta of choice)

7

gherkins

175

g

tinned tangerines, juice discarded

140

g

cooked corn

100

g

fresh peas, thawed if frozen

200

g

vegan mayonnaise*

1

Tbsp

white balsamic vinegar (optional, but recommended)

1,5

tsp

Indian curry

1

tsp

garlic powder

1/2

tsp

dried chervil

1/2

tsp

guar gum (optional)**

pinch of pepper & cayenne each
Instructions
Cook the pasta 'al dente' (according to instructions), drain and set aside to cool down. ***

Dice your gherkins and place them with the tangerines, corn and peas in a large salad bowl.

Mix mayo, balsamic vinegar, spices and guar gum in an extra bowl and give it a taste. Adjust spicing to your liking, if necessary.

Add the dressing into the salad bowl to the tangerines and vegetables and add the pasta at the end. Stir everything well and you're already done with your delicious pasta salad.

The salad tastes best on the day made, but it keeps fresh in an air-tight container in the fridge for 1-2 days.
Notes
*I used an organic, almond based one.   ** This helps making the dressing more creamy.   ***I normally cook the pasta a couple of hours in advance.   I always choose organic produce whenever possible. It's not only much better for my health (and yours, too), but also for our environment. 🌍💫💚