How about some roasted eggplant crispies straight from the oven as a healthy snack for your next movie night?
Yes, that's right . . . eggplant crispies.
They are wonderfully spicy, soft on the inside and perfectly crunchy on the outside.
And all without oil or frying.
No way! How's that gonna work?
Hah! Easy as pie. 🙂 You'll see.
The recipe was kind of a coincidental discovery. But aren't those often the best?
One evening I just had this huge appetite for something crunchy. And since roasting & a crunchy coating is usually the key to happiness, I started experimenting a little.
The only thing available for roasting in my fridge was an eggplant, though. 🤷
Well, however, then eggplant it is, I thought. Will probably work just fine . . . 💚
Optimism always pays off. At least it did here.
Because my roasted eggplant crispies are not just delicious, but super healthy as well.
They are vegan, gluten free and baked in the oven without any oil.
The perfect healthy veggie snack that will have you hooked from the first bite. Here we go!
Ingredients for 
Roasted Eggplant Crispies
The most important ingredient is, of course, the eggplant (or aubergine).
It should be medium to large, not too soft and beautifully violet.
Eggplants are one of the nightshade plants. Unfortunately they are still not very popular in Germany and you will rarely find them on anyones plate. That's quite a shame. Because properly prepared, the eggplant is not only delicious, but also really healthy. It contains many vitamins and minerals. These include B vitamins, Vitamin C & K, Iron Potassium, Manganese & Copper.
For the crunchy coating you need, in addition to various herbs and spices, especially chickpea flour.
This gluten free flour alternative is (as the name suggests) made from chickpeas.
It is very rich in protein and full of vitamins and minerals. Since it also has good binding properties, it's also a wonderful egg replacer.
For some extra crispyness, I got some corn semolina (or polenta).
Corn semolina is also gluten free and has a coarser consistency compared to wheat semolina.
This is important for this recipe, because it gives the eggplant crispies just a great extra crunch.
How to make Roasted Eggplant Crispies
Preheat your oven to 200°C | 390°F.
Wash the eggplant well and cut it into 0.5 inch cubes.
Next, you mix up the coating. For this, add chickpea flour, nutritional yeast, garlic, coriander, herbs, paprika, tamari and water (or plant milk) to a bowl and mix well with a fork until no lumps are left.
Put the cubed eggplant in the bowl with the coating and mix until all cubes are well covered with the liquid.
Now you sprinkle on half of the corn semolina and stir again.
Distribute the eggplant cubes evenly on a lined baking sheet. Make sure that the cubes are all separated and a little bit apart from each other. Like this, they will definitely turn out nice and crispy.
Sprinkle the remaining semolina evenly over the coated eggplant and put it in the preheated oven. Bake the aubergine for 20 minutes. Briefly open the oven door every 5 minutes, so that the excess moisture can escape. This is important so that the eggplant cubes become really crispy.
After 20 minutes, turn off the oven, open the oven door briefly once more and let the eggplant crispies rest for another 5 minutes in the off-turned (and closed) oven.
And now you can start crunching away. 🙂
Best of all: the eggplant crunchies are really super versatile.
They make a great snack for your next movie or game night.
Or delicious finger food for your next party. Best combined with a bowl of freshly homemade Garlicky Kidney Cinnamon Hummus. My favorite way to enjoy my roasted eggplant crunchies is to pop them in a creamy Sweet Potato Soup . . .
. . . or on top of a fresh garden salad. 🥗
My latest discovery though, is to add the crunchy cubes to my Buddha Bowls.
You need to give this a try too. 💚Awesome.
So, now all you eggplant fans hopefully are like totally inspired and already running to your kitchen.
If you are still skeptical about the purple veggie, this recipe is a great start for a new veggie love. It's so quick, easy & delicious. Those crispy little cubes will surprise you. Big promise.
Give them a try and tell me all about it. 🍆🍆🍆
I will happily crunch a few more crispies now.
See you soon 😘xo, Romy
Do you like my recipe? Say hello & leave me a little comment and give this recipe a rating.
I absolutely love to hear from you.
And don't forget to follow me on Pinterest, Bloglovin  & Instagram to never miss a new post!
Thanks so much for sharing the love 😘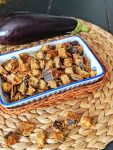 Roasted Eggplant Crispies - vegan & oil-free
These roasted eggplant crispies are baked in the oven without any oil. They're a spicy & delicious healthy snack, that's also a perfect topping for soups & salads. They are vegan, gluten free & kids approved.
Course Tags:
Appetizer, Side Dish, Snack
Tags:
dairy-free, easy, eggplant, gluten-free, healthy, low fat, plant-based, vegan
Ingredients
1

eggplant ,

medium - big

3

Tbsp

chickpea flour (gram flour)

1

Tbsp

nutritional yeast

1

tsp

garlic powder

1

tsp

coriander

1

tsp

of your favorite herb mix

1/2

tsp

hot paprika

1

Tbsp

Tamari*

1/3 cup |

75 ml

water or plant milk

3

Tbsp

corn semolina | polenta
Instructions
Preheat your oven to 200°C | 390°F.

Wash the aubergine and cut into cubes of about 0.5 inch.


For the coating, mix chickpea flour, nutritional yeast and spices in a bowl and then add Tamari and water or plant milk. Mix everything well with a fork until no more lumps are visible.


Add the eggplant cubes to the coating and fold in well until all cubes are covered with the mixture.


Now pour in half of the corn semolina and stir again.


Spread the coated eggplant cubes on a baking sheet covered with baking paper. The cubes should lie a bit separate. Like this they will all get nice and crispy.


At the end, sprinkle the remaining corn semolina evenly over it and put your crispies in the preheated oven for 20 minutes.

For perfect crispyness, open the oven door briefly every 5 minutes so that some of the emerging moisture will be removed.

After 20 minutes, switch off the oven, open the oven door again briefly and then leave the crispies in the (closed!) oven for another 5 minutes.


The roasted eggplant crispies taste best fresh and warm out of the oven. Pure as a snack, as a crispy topping for soups or in a fresh garden salad. Enjoy!

Notes
*You can also use regular soy sauce, but thus the recipe is no longer gluten free.
I always choose organic produce whenever possible. It's not only better for my health (and yours, too), but also for our environment.
🌍💫💚