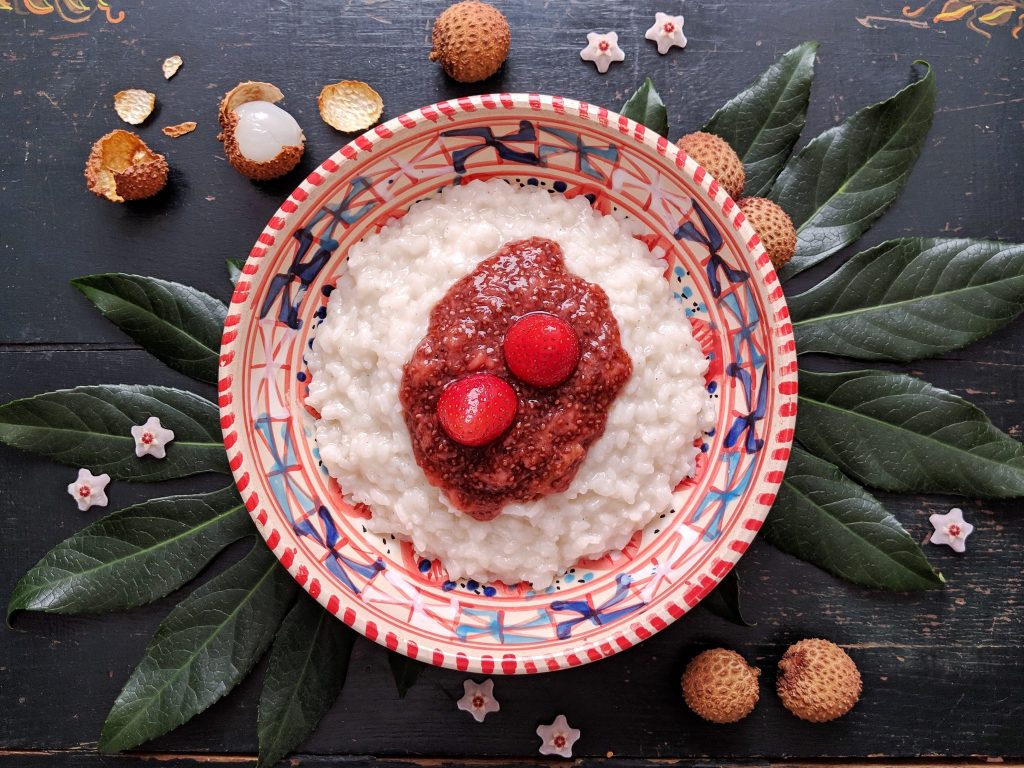 As a kid, when my mom used to ask me what I wanted for dinner, my answer was probably one of the following: noodles, pancakes or rice pudding with applesauce. Today you can still score with me with all three dishes. ☺️
But in my opinion, rice pudding is so much more than just a kid's favorite food. It can be  a delicious dessert, comforting soul food or a lunch break savior, depending on how you prepare and combine it.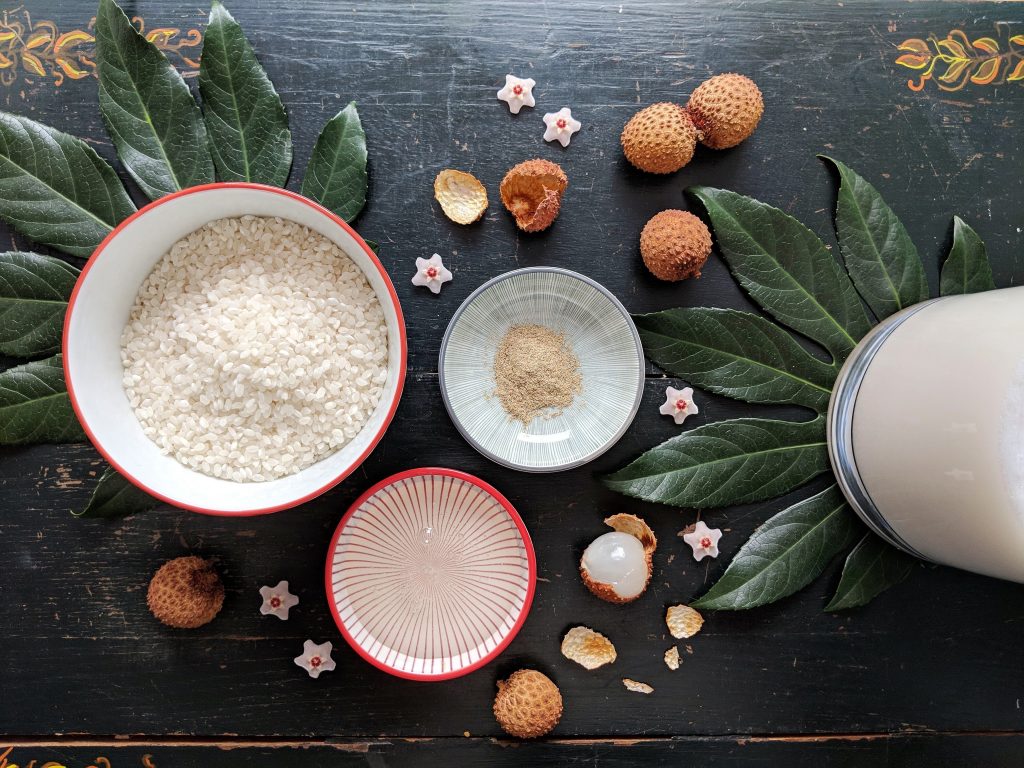 But since the main ingredient of rice pudding is milk, I first had to find a plant-based alternative, with which the rice pudding tastes as good as it used to. After a few tries, e.g. with canned coconut milk (too fatty) and oat milk, which I usually drink (not creamy enough), I have now discovered the right 'milk'. Actually, I'm not a big fan of Alpro products (too many ingredients and often even sugar), but the Alpro Coconut Drink really makes a wonderfully creamy rice pudding.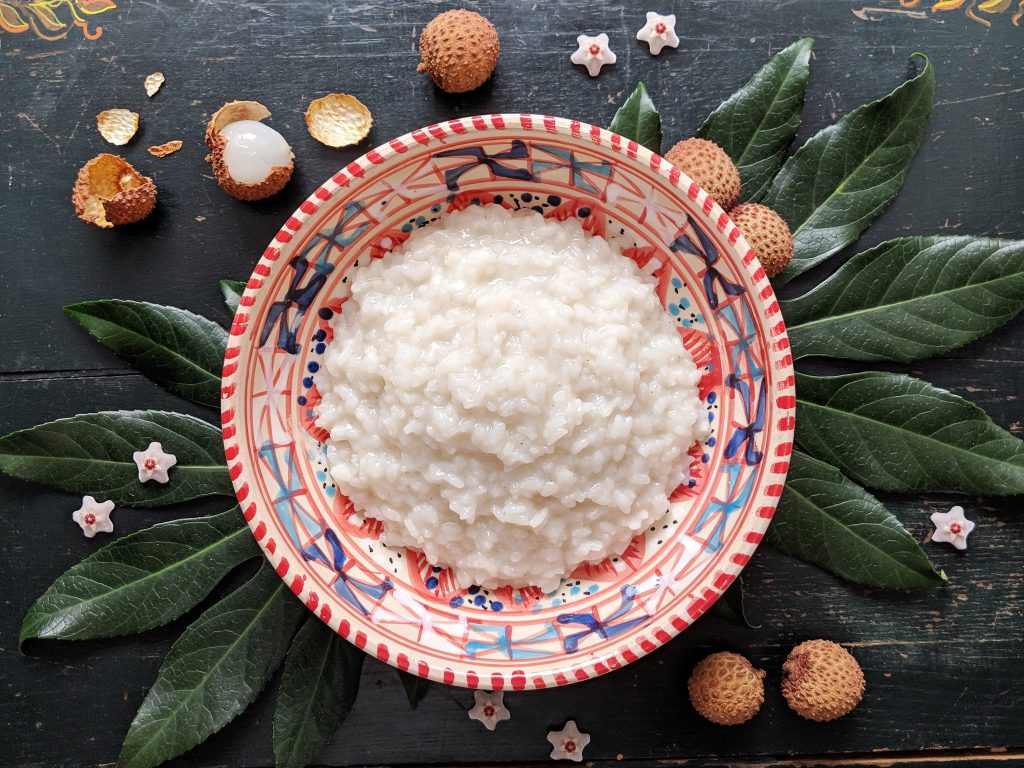 Another thing on the list was sugar. Because, of course, rice pudding should always have a lovely sweetness to it. I try to avoid sugar in everyday life and prefer to use alternative & natural sweeteners. In no case artificial sweeteners! These are at least as unhealthy as sugar. In my kitchen, maple syrup, rice syrup or dates are currently very popular.
Today I've chosen rice syrup, so that the rice pudding retains its beautiful white color. If you don't care that your rice pudding will have a slightly caramelised hue, you can also use maple syrup, of course.
I also added a pinch of cardamom to the rice pudding, because I wanted to give it an exotic touch. I found fresh lychees on the farmers market today and I simply had to buy some. Have you ever eaten fresh lychees? They are wonderfully sweet and juicy and make a great decoration for your exotic food pics too. 😅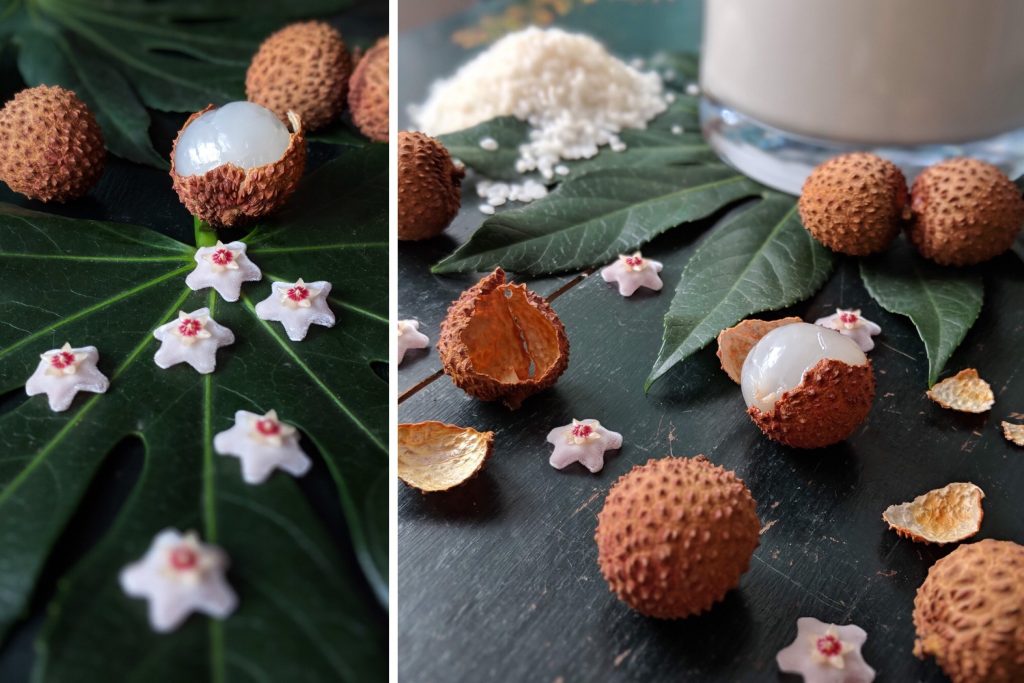 It takes only 30 minutes and your delicious rice pudding is already finished and waiting on the table. You can have it the classic way and sprinkle it with a coconut blossom sugar & cinnamon mix, serve it with applesauce or maybe try my super fruity Chia Mirabelle Compote. It is naturally sweetened and a healthy alternative to traditional compote. It's also very easy to adapt, e.g. with strawberries & rhubarb instead of mirabelles.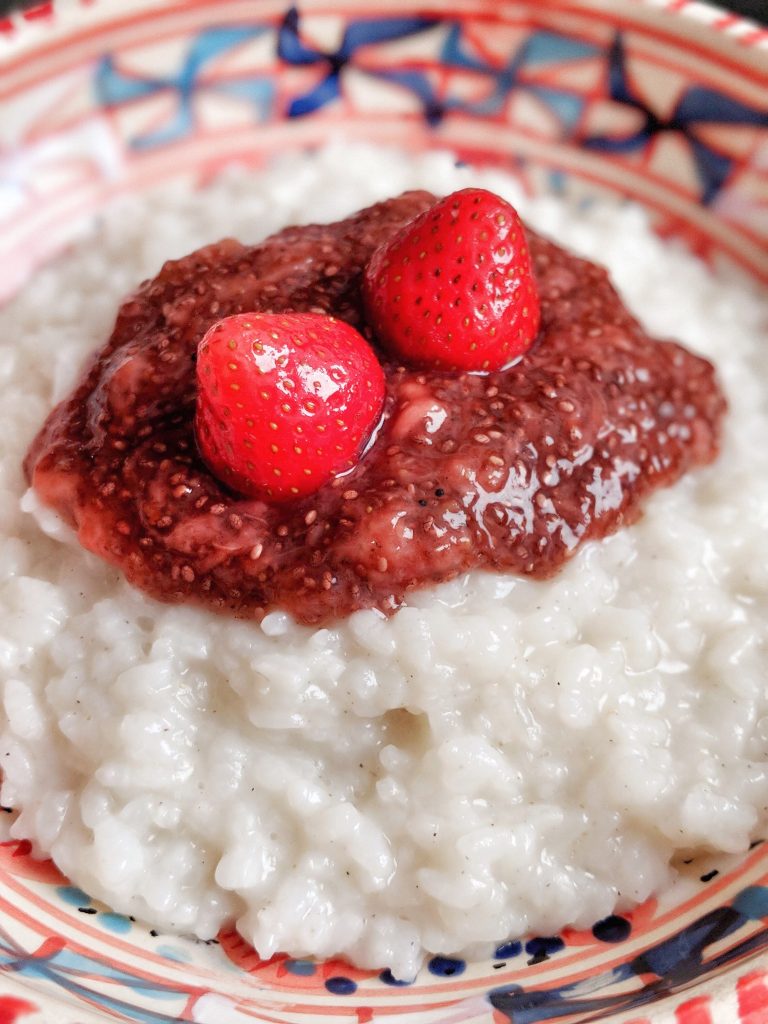 Anyways, enjoy your creamy plant-based rice pudding with your favourite topping and maybe it'll bring you back a bit of childhood, too. 💛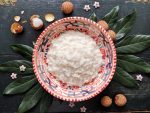 Creamy Vegan Rice Pudding - gluten-free & naturally sweetened
Wonderfully creamy rice pudding as you remember it from your childhood - only without the milk! My recipe for vegan rice pudding is super easy & quick to prepare and the result will guarantee a smile on your face.
Course Tags:
Dessert, Main Course
Tags:
gluten-free, naturally sweetened, plant-based, rice, vegan
Ingredients
1 litre |

4 cups

coconut milk (from a carton)

250 g |

1 1/3 cups

round grain rice (for rice pudding)

5

Tbsp

rice syrup OR 3 Tbsp maple syrup

1/2

tsp

cardamom*
Instructions
Put coconut milk, rice and cardamom in a pot and bring it to a boil.

Then turn the heat down low and let everything simmer with the lid closed for 25 minutes.

Now and then stir through, so that the rice won't clump or attach to the bottom of the pot.


After 25 minutes you add the rice syrup and stir one more time. That's it!

Enojy your rice pudding.
Notes
*You could also use cinnamon or ground vanilla instead.   I always choose organic produce whenever possible. It's not only better for my health (and yours, too), but also for our environment. 🌍💫💚