On a Sunday morning there is nothing better than being tickled awake by the heavenly scent of freshly baked vegan breakfast pancakes. And if those oh-so-good, vanilla-scented, fluffy pancakes happen to be surrounded by fruity strawberry compote, there's only one thing missing to make you soar off to breakfast heaven. It is . . .
. . . creamy decadent CHOCOLATE SAUCE. 🤤
You can find the recipe for the sauce right here. It's the chocolate dip of my Epic Vegan Snack Platter. Simply prepared with a couple of tablespoons more oat milk. And hocus pocus, you have the ultimate chocolate sauce for your breakfast pancakes right in your hands. 💛You can thank me later.
Watch how it's slowly drizzling all over the pancakes.
And starts forming an indulgent chocolate strawberry lake on the plate.
Perfect to dip your pancakes just before putting them into your mouth with pure pleasure.
Heavenly!
Ingredients for Perfect Vegan Breakfast Pancakes
My goal with today's recipe was to create fluffy delicious pancakes that are also nutritious and good for you.
That's why I replaced half of the flour with ground up oats.
Oats are super healthy (but I'm sure you already knew that). Here are some more details.
They contain a lot of fiber and plant-based protein (13 g | 100 g). In addition, they can lower blood sugar & cholesterol levels and make you feel full for longer.
Another plus (especially with a vegan diet) is that oats are a good source of iron (5.5 mg | 100 g).
And because the bodies ability to absorb iron can be improved in conjunction with vitamin C, today's fluffy pancakes are accompanied by home-made strawberry compote. Since the little red fruits are so full of vitamin C.
And of course, are a delicious addition to pancakes, too. 🙂
My pancakes are naturally sweetened with a little maple syrup. And ground vanilla adds some extra flavor.
They are beautifully fluffy, without any eggs added. Baking powder & baking soda are my (not so) secret little helpers.
I also added some soy flour¹ for extra binding.
And (please do not be surprised) I also put a spoonful of nutritional yeast¹ into the dough. Since I think it somehow makes for a 'rounder' taste. Wait, you don't know nutritional yeast, yet?
The delicious flakes have nothing to do with conventional baker's yeast, because here the yeast bacteria are inactive. The flakes are a healthy condiment based on molasses. They contain lots of vitamins and minerals. Vitamins B1, B2, & B6 are at the top of the list. Their 'cheesy' aroma makes them perfect for savory dishes and vegan Parmesan. But believe me, small pinch of it can also make a sweet dish even more delicious.
How to make Perfect Vegan Breakfast Pancakes
The pancakes are really super easy to make. You mix all the dry ingredients together and then add the oat milk and the maple syrup. Now mix everything with a whisk until a smooth, creamy dough is formed.
Next you heat some coconut oil (olive oil or rapeseed oil go too) in a large, coated pan. Put three tablespoons of dough into the pan one after the other. The first three pancakes are already sizzling. 🙂
After a few minutes, little holes start forming on the surface. Now you can turn over the pancakes. They should have a nice golden brown color. After another 2 minutes, the pancakes are ready and can be stored on a large plate.
Repeat the process until all the dough is used up. The recipe is enough for about 25-27 small pancakes.
While the pancakes are baking, you quickly make the strawberry compote.
For this you add the thawed strawberries with the maple syrup and lemon juice to a small saucepan. Bring everything to a boil and then turn down the temperature.
Dissolve the arrowroot powder in apple juice and stir the mixture into the simmering berries. Now stir evenly.
Let the compote simmer for another five minutes on low temperature. And you're done!
If you like, you can crush the strawberries with a fork to make the compote a little 'saucier'.
Now there seems to be only one problem left. 😅
You need a chosen person of trust (aka lover | best friend | mom) who will whip up the vegan breakfast pancakes of your dreams for next Sundays breakfast for you. I'm still working on convincing my husband to take on this honorable task. Wish me luck 😊
In case of need, you just bake them yourself. And maybe like this someone else is tickled awake by the smell of freshly baked vegan pancakes on a Sunday morning. 💛
Happy baking & indulging. Just send me some greetings from pancake heaven. 🙂
xo, Romy
Do you like my recipe? Say hello & leave me a little comment and give this recipe a rating.
I absolutely love to hear from you.
And don't forget to follow me on Pinterest, Bloglovin  & Instagram to never miss a new post!
Thanks so much for sharing the love 😘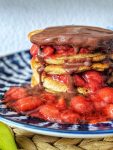 Perfect vegan Breakfast Pancakes
My fluffy, vegan breakfast pancakes are the perfect healthy weekend treat. They are made with oats & naturally sweetened with maple syrup. Best enjoy them with fruity strawberry compote or decadent chocolate sauce.
Course Tags:
Breakfast, Dessert
Tags:
dairy-free, easy, naturally sweetened, oats, plant-based, vegan
Ingredients
Dry ingredients:
1 cup |

100 g

oats

1,5 cup |

150 g

wheat or spelt flour

1

Tbsp

nutritional yeast

1

Tbsp

soy flour (optional)*

1

tsp

baking powder

1

tsp

baking soda

1/2

tsp

ground vanilla**

1

pinch of

salt
Wet ingredients:
2 cups |

450 ml

oat milk

2

Tbsp

maple syrup
Additionally:
virgin coconut oil for frying
For the strawberry compote:
9 oz |

250 g

strawberries,

fresh or frozen (thawed)

1

Tbsp

lemon juice

1

Tbsp

maple syrup

1

Tbsp

apple juice

1/2

tsp

arrowroot powder
Instructions
For the pancakes:
Put the oats in a food processor and process for about 1 minute. They should be a kind of coarse flour then.


Mix all the dry ingredients together in a large bowl and stir briefly with a whisk.


Next, add the oat milk and maple syrup to the flour mixture and stir with the whisk until a smooth dough is formed.


Heat about 1 tsp of coconut oil in a large, coated pan and add 3 pancakes (1 Tbsp of dough each) to the pan.
At medium heat, little holes should start forming on the surface of the pancakes after 1-2 minutes. Now you can gently flip the pancakes and bake them for another minute until they are golden brown on both sides.

Put the finished pancakes on a plate and repeat the process until your pancake dough is used up. Enjoy!
For the strawberry compote:
While the pancakes are baking, put the strawberries in a small saucepan with lemon juice & maple syrup and let simmer for 5 minutes over low heat.


Dissolve the arrowroot powder in the apple juice. Take the saucepan off the heat and stir in the arrowroot mixture.Bring to a boil again while stirring and let simmer over low heat for another 5 minutes.


If the strawberries are too big for you, you can use a fork to break them up into smaller pieces or even crush them.


The strawberry compote stays fresh in the fridge for 2-3 days and also tastes delicious as a fruity spread.

Notes
*The soy flour ensures that the pancakes have a better binding. But you can also use soy milk instead of the oat milk and simply omit the soy flour. **Or 1 tsp vanilla extract.
I always choose organic produce whenever possible. It's not only better for my health (and yours, too), but also for our environment. 🌍💫💚
¹As an Amazon Associate I earn from qualifying purchases. Please note that I only recommend products that I personally use and love and I always have my readers' (that's you :)) best interest at heart.