Now that it's finally getting warmer, it's the perfect time for a fresh & colorful Buddha Bowl.
Whether vegan or vegetarian, warm or cold, Buddha Bowls are such a healthy & super versatile way to eat.
And you can let your creativity run wild.
Are you already in love with these tasty blissful bowls?
I'm sure you are. 🙂
But if not, I'll give you a short introduction now. And a little taste why they are so endearing indeed.
A Buddha Bowl is a round thing in the truest sense of the word. And not just because it's served in a round bowl.
Or because it reminds of the round belly of a Buddha by chance. 😉
It's because properly combined, such a Buddha Bowl covers your basic needs for all the important nutrients your body needs. Just the right thing to get fit for spring, I guess.
7 elements for a balanced Buddha Bowl
♥ ︎ Fresh green
e.g. baby spinach, lamb's lettuce, arugula or fresh herbs
♥ ︎ Carbohydrates
e.g. rice, noodles, sweet potato, quinoa or millet
♥ ︎ Vegetables
e.g. carrots, peppers, cucumber, broccoli, zucchini or mushrooms
♥ ︎ Proteins
e.g. tofu, chickpeas, lentils, beans or edamame
♥ ︎ Healthy fats
e.g. avocado, sesame seeds, hemp seeds, sunflower seeds or nuts
♥ ︎ Fruit
e.g. pomegranate, mango, grapes, apple or berries
♥ ︎ Topping
e.g. desiccated coconut, sprouts, hummus, tahin, peanuts, dressing
Probably you'll already have most of the ingredients at home. Incidentally, such a Buddha Bowl is also wonderful to use up leftovers from the day before (e.g. pasta, rice or veggies). And it's so delicious & satisfying, too.
It won't get any better than that. 😊
Blissful Vegan Buddha Bowl ingredients
This fresh, crunchy bowl is quite full of veggies – both fresh and cooked.
Since green vegetables are an important part of Buddha Bowls, I decided to use zucchini, green beans and fresh baby spinach.
Apart from that some fried mushrooms are added. But feel free to use other mushrooms as well. Shitake or oyster mushrooms also work wonderful.
Red sweet pepper makes for a sweet note and is wonderfully crisp.
Protein gets the Bowl among other things by a portion of diced Feto. This is fermented tofu. And if you do not know it yet, you should definitely give it a try. Fermenting makes tofu not only healthier, but also a whole lot tastier. 😉
Basmati rice is my absolute favorite rice and therefore it is a mandatory addition to my Buddha Bowl.
I just love its wonderful aromatic scent. Of course, you can also use brown rice instead.
Pomegranate seeds add a little fresh fruitiness to your bowl. And the extra vitamins C, K and folic acid won't hurt either.
For a little extra crunch, I added my Roasted Eggplant Crispies to the Buddha Bowl.
And the whole thing is topped with creamy Peanut Mango Dip, which turned out to be the perfect topping.
Sprinkle a few sesame seeds on top for healthy fats and a helping of calcium too. And you're good to go.
How to make your Blissful Vegan Buddha Bowl
First you cook the basmati rice. Of course, if you have some left-over cooked rice from the previous day, you can use this instead. Thus your Bowl will be finished even quicker. 🙂
Rinse the rice for 1 minute under running water. Put it in a saucepan with 1.5 times the amount of water and bring it to a boil with the lid closed. Turn down the heat to the lowest setting and let the rice cook for 10 minutes (mind the cooking instructions on the rice package).
After 10 minutes you turn off the stove and loosen the rice with a fork. Let it stand for another 5 minutes with the lid closed. Finished!
While the rice is cooking, prepare the mushrooms and beans. For this you heat the oil in a large frying pan and add the diced onion to it. Let it turn lightly brown and then add the mushrooms. Fry the mushrooms for about 5 minutes until they get color and develop some roasting flavors. Next pour over Tamari | soy sauce and add the green beans. Set the stove to low heat and let everything roast for a few more minutes before taking it off the heat. The beans should still be a bit crisp and have bite by then.
While the mushrooms and beans are sizzling, you can quickly turn your zucchini into crisp zoodles with a spiralizer¹.
And now you can create your own blissful vegan Buddha Bowl together. Start with lining your bowl with baby spinach. Then in turn add the fragrant basmati rice, the fried mushrooms, the fresh zoodles, the crunchy sweet pepper and the eggplant crispies. Finally you can top it all with fruity pomegranate seeds and creamy peanut mango dressing.
A pinch of sesame seeds and your bowl is ready for you to enjoy. 💚
So what do you think?
Would you give my blissful vegan Buddha Bowl a try?
Feel free to change the ingredients according to your preferences, of course. Just make sure you use as many of the 7 Buddha Bowl elements as possible. Like this your bowl will not only fill your belly, but also keep you happy & healthy. 💚
And now have fun creating your own colorful Buddha Bowls.
And eating them . . . nom nom 🍲
xo, Romy
Do you like my recipe? Say hello & leave me a little comment and give this recipe a rating.
I absolutely love to hear from you.
And don't forget to follow me on Pinterest, Bloglovin  & Instagram to never miss a new post!
Thanks so much for sharing the love 😘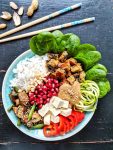 Blissful Vegan Buddha Bowl
A colorful bowl full of vitamins, protein & carbs. This healthy fresh Buddha Bowl is vegan, gluten free & ready in just 20 minutes. Yum! 💚
Course Tags:
Dinner, Lunch
Tags:
dairy-free, easy, gluten-free, healthy, plant-based, rice, vegan, veggies
Ingredients
1 cup |

150 g

basmati rice

1

Tbsp

olive oil

1

small onion,

diced

7 oz |

200 g

mushrooms,

quartered

1

handful

green beans,

fresh or frozen

1

Tbsp

Tamari or soy sauce

1/2

zucchini

1

handful

fresh baby spinach

1/2

sweet pepper,

sliced

1

handful

pomegranate seeds

1/2

serving

Roasted Eggplant Crispies*

1/2

serving

Peanut Mango Dip**

3,5 oz |

100 g

smoked tofu or sesame tofu,

cubed

sesame seeds
Instructions
Rinse the rice under running water for about 1 minute.

Put it in a saucepan with 1,5 cup | 350 ml of water and bring it to a boil with the lid closed. Then set the temperature to the lowest level and let the rice cook for 10 minutes.

After 10 minutes turn off the stove and loosen the rice with a fork. Let it sit on the stove with the lid closed for another 5 minutes.


While the rice is cooking, prepare your veggies.

Put the olive oil in a large, hot pan and sauté the onion for a couple of minutes.

Add the mushrooms and let them fry for 5 minutes until they get some color all around. Now add the Tamari | soy sauce and the beans, stir briefly and let simmer for another 1-2 minutes.


While the mushrooms are frying, use your spiralizer to make some crunchy Zoodles out of your zucchini.


When everything is ready, you can create your Buddha Bowl.

Arrange the rice, fried mushrooms, zoodles, peppers, spinach, tofu and eggplant crispies in a nice bowl and decorate with pomegranate seeds, peanut-mango dip and a pinch of sesame.
Enjoy!
¹As an Amazon Associate I earn from qualifying purchases. Please note that I only recommend products that I personally use and love and I always have my readers' (that's you :)) best interest at heart.