Valentine's Day is just around the corner. 💕
Are you as excited as I am?
Or are you wondering just why everyone is getting so crazy about all things pink & hearts?
Anyways, I hope as the cake lover that you probably are, you can't wait to read all about my tasty little Valentine's Raspberry Mini Cakes.
For me, Valentine's Day is all about flowers and cakes. So of course, I am excited. While I absolutely love to get flowers, I rather bake the cakes myself. And afterwards enjoy them with my hubby on the couch.
In order to get in the right mood, I bought pink tulips the other day. 🌷The pink splash of color in my kitchen promptly inspired me to make these dreamy mini cakes.
Aren't they pretty? Ahhh, I'm completely in love 😍
And they are super delicious, of course. After all, the inner values count, no? Though there's no surprise really. How could it be otherwise, if fluffy cake meets delicate cream cheese frosting and fruity raspberries?
However, there is a grain of salt in this. These cute mini cakes should be pink, actually. The cake batter, thanks to beetroot juice and fruit powder, had such a wonderful bright pink color to it. But this somehow changed to a chocolate brown during baking. 😅
Unfortunately, chemistry was never my strongest subject and so I didn't see this one coming. As for my Pink Burger Buns this method always works perfectly. 🤷
But chocolate brown is a nice color, though (especially when it comes to cakes). Thus I haven't experimented any further. And today I present you my not pink, but heavenly delicious Valentine's Raspberry Mini Cakes.
They are vegan, naturally sweetened with maple syrup and will melt on your tongue. A creamy fruity treat that makes hearts beat faster. And not just on Valentine's Day. My mom has already pre-ordered the mini cakes for Mother's Day and I guess they will definitely be a hit as a little birthday surprise.
I already know who I'll surprise with that first . . . 😊🤫
Valentine's Raspberry Mini Cakes Ingredients
I used all-purpose flour for the mini cakes, because this way the dough turned out so wonderfully soft and fluffy. But you can easily replace half of the flour with whole wheat flour. However, the cake will turn out more compact and less tender.
My mini cakes are completely without any refined sugar, but sweetened only with maple syrup. Agave syrup would also be a good alternative. And thanks to apple sauce and coconut milk, neither oil nor margarine are needed for the mini cakes.
The raspberry sauce is quick & easy and stirred together in no time. All you need is raspberries (I took frozen ones), some maple syrup for the sweetness, and chia seeds for the binding. By the way, this sauce is also healthy. Thanks to vitamin C from the raspberries and omega 3 fatty acids from the chia seeds. 🙂
For the cream cheese frosting you only need 4 ingredients: vegan almond cream cheese, maple syrup, lemon juice & vanilla. The frosting tastes wonderfully fresh, ain't too heavy and goes perfectly with the fruity raspberries.
How to make the Valentine's Raspberry Mini Cakes
The cake for the mini cakes is super easy to make. First mix all the dry ingredients together, then mix the moist ones and add them to the dry ingredients. Now mix everything briefly(!) with a whisk and already the cake can go in the oven.
While it's baking, you prepare the raspberry sauce and cream cheese frosting.
For the raspberry sauce, simply heat the raspberries and maple syrup in a small saucepan. When the raspberries start juicing, add the chia seeds. Stir and remove from heat. Now the sauce just has to cool down and bind. Put it in a small bowl, cover it with a plate and put it in the fridge.
For the cream cheese frosting, beat all ingredients for one minute with a hand mixer until creamy.  Place it in the fridge to cool. If you like (and have enough time), you can bake the cake ahead. Then it can cool down in peace and is ready the next day to be turned into mini cakes. After cooling, leave it in its baking pan and cover it with a double-folded kitchen towel. This way it stays fresh and won't get soggy (a little wisdom from my grandma 💛).
When your cake has cooled and you have prepared everything, you can start tinkering right away with the cake. First, halve the cake in the middle once (this little tool¹ is really helpful for this step 🙂), so you get two cake layers. From those you now cut out 6 small cake layers using a round cookie cutter or a glass.
On the cake layers, you first spread 1-2 teaspoons of raspberry sauce and then add 1-2 teaspoons of the cream cheese frosting on top. Next you stack one layer on top of the other to get a two-layer cake. You repeat that twice with the other layers. (I hope this isn't too confusing. Hopefully this little GIF will help. Though the order on the GIF is a little different, but the written method is more practical).
Finally, decorate your mini cakes with 5 raspberries each and sprinkle dried edible flowers in the middle. For another variation, add a dab of raspberry sauce to the top center, place a raspberry on top and sprinkle the dried flowers around it. Instead of the dried flowers, you could also use coconut chips or nut brittle.
Just be creative and have fun. 🙂
Be sure to bake my Valentine's Raspberry Mini Cakes soon and surprise your sweetheart or your best friend with them. They'll love you for it. 😉
The Mini Cakes are best enjoyed fresh. But they will keep fresh in an air-tight container in the fridge for a couple of days. But let's be honest . . . these sweet little cakes will be nibbled away so fast that this info is actually totally unnecessary. 😜
Have fun baking, enjoy your mini cakes & have a nice Valentine's Day 💕 xo, Romy
Do you like my recipe? Say hello & leave me a little comment. Or simply follow me on Bloglovin to never miss a new post!
Thanks so much for sharing the love 😘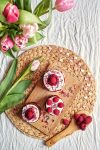 Valentine's Raspberry Mini Cakes - vegan & naturally sweetened
Soft little cakes with creamy filling & fruity raspberries. This recipe is vegan and naturally sweetened with maple syrup. The perfect treat for Valentine's Day, birthdays or just because you like cake. 😊💕
Course Tags:
Cake, Dessert, sweets
Tags:
cream cheese, dairy-free, naturally sweetened, plant-based, raspberries, valentine's day, vegan
Ingredients
Dry ingredients:
1,5 cups |

150 g

wheat or spelt flour

1

Tbsp

acai powder (optional)*

1/2

tsp

ground ginger

1/4

tsp

cardamom

1

tsp

baking powder

1/2

tsp

baking soda

1

pinch of

salt
Wet ingredients:
1/3 cup + 1 Tbsp |

100 ml

maple syrup

1/3 cup |

100 ml

coconut milk (from a can)

1/3 cup |

80 ml

beetroot juice

1/4 cup |

60 g

unsweetened apple sauce

2

tsp

apple cider vinegar

1

tsp

vanilla extract
For the cream cheese frosting:
5,3 oz |

150 g

almond cream cheese

3

tsp

lemon juice

2

tsp

maple syrup

1/4

tsp

ground vanilla
For the raspberry sauce:
1 cup |

100 g

raspberries,

fresh or frozen

2

Tbsp

maple syrup

2

tsp

chia seeds
Additionally for decoration:
15

fresh raspberries

1

tsp

dried edible flowers
Instructions
For the cake:
Preheat your oven to 180°C | 350°F.

Grease a round baking pan (Ø 7 in | 18 cm) with some coconut oil.

Put all dry ingredients in a large bowl and mix well with a whisk.


Mix all wet ingredients in a second bowl and then pour them into the flour mixture.

Stir everything with the whisk until no flour is left visible. Be careful not to over-mix!

Put the dough in the prepared baking pan and let the cake bake for about 45 minutes. It's best to do the stick test after 40 minutes. If no dough is left hanging, the cake is finished, otherwise bake for another 5 minutes and test again.


Cool the finished cake in the pan on a wire rack for 10 minutes and then remove from the pan and let cool completely.

For the cream cheese frosting:
As the cake bakes, you can prepare the cream cheese frosting and the raspberry sauce.

Put all ingredients for the topping in a tall container and mix creamy with the hand mixer for about 1 minute. Place it in the fridge until you need it.
For the raspberry sauce:
Place berries and maple syrup in a small saucepan and pt over medium heat. As soon as the raspberries start to release their juices, add the chia seeds and stir.


When the sauce begins to simmer, remove from heat and let rest for 5 minutes. Then put in a bowl and place in the fridge to cool.

How to assemble the mini cakes:
Halve the cooled cake horizontal in the middle and cut out 6 circles with a round cookie cutter.

My cookie cutters are Ø 0,24 in | 60 mm and Ø 0,3 in | 75 mm.

For each mini cake, you need 2 cut out cake circles. Spread 1-2 teaspoons of raspberry sauce on both circles and then 1-2 teaspoons cream cheese frosting.


Carefully stack the cake circles and decorate the top with 5 fresh raspberries and a pinch of dried flowers in the center.

Repeat the process twice with the remaining cake circles.

The finished mini cakes should be placed in the freezer for 10 minutes for the frosting to become firm.


The mini cakes taste best on the day made, but will keep fresh in the fridge for 1-2 days.

Notes
*Actually intended for smoothies, but also tastes delicious in a cake. The cake gets a subtle fruit note and also a few extra vitamins and minerals. 😉 I recommend
this powder¹
.   I always choose organic produce whenever possible. It's not only better for my health (and yours, too), but also for our environment. 🌍💫💚
¹As an Amazon Associate I earn from qualifying purchases. Please note that I only recommend products that I personally use and love and I always have my readers' (that's you :)) best interest at heart.