It is finally December and therefore the perfect time to bake cookies again. This year, the first round of baking went to my beloved Ayurvedic Chai Cookies.
Do you love baking cookies as much as I do? Or do you prefer to pinch a couple of the (bought) cookie plate without standing in the kitchen first? For me baking is somehow already half the fun. I play some Christmas music (mostly Michael Bublé at the moment 😅) and then my little kitchen is turned into a cookie-cutter battlefield with lots of flour and other ingredients. 🙂
Christmas baking has almost a tradition in my family. My grandmother used to bake quite a lot of different sorts and my dad still does it today: everything from cinnamon stars, butter cookies and vanilla kipferl to shortbread cookie and macaroons. Dad even makes a huge home-made stollen every year. I have not gotten it yet, but maybe it will work in the next few weeks. Then I will definitely share it on Instagram. 😉
I am diligently continuing our baking tradition now. However, I bake my cookies completely without milk, butter or eggs, but completely plant-based. And I try to avoid any industrial sugars and instead rely on natural sweetness such as dates, maple syrup or coconut blossom sugar. But the results are always delicious. I promise 😉
But now back to my Ayurvedic Chai Cookies. The little balls may look a bit unimpressive, but don't be fooled. Remember: it's the inner values ​​that matter, right? Right! Just their heavenly scent makes these chai cookies so very special. And this great scent comes (beware, don't be surprised …) of ground chai tea. Hah!
Exactly, you read that right. 😊 I just ground a few spoonfuls of chai tea (I love this one) in a coffee grinder and then put it through a sieve. Add an extra spoonful of Ceylon cinnamon and you're done. There's your perfect Christmas cookie spice blend, which is by the way also Ayurvedic and has an energizing effect on you. An addition that cannot hurt, considering it's winter time and the weather's often rather dreary. ❄️💛
My chai cookies are vegan, of course, and I have tried to combine as many good ingredients as possible. They are sweetened with coconut blossom sugar and instead of margarine I have used a little coconut oil, creamy almond butter and coconut soy yoghurt.
The cookies are wonderfully tender and literally melt on the tongue. And the best part is probably that they taste even better on the second and third day (at least for me ☺️). They don't last much longer than a few days in our house anyway.
So how about some delicious Ayurvedic Chai Cookies for the 2. Advent? They are baked in no time and are also a perfect little gift for loved ones. 🌟 For who doesn't love to get some homemade cookies?!
Enjoy creating these little balls of bliss and have a nice 2. Advent! xo, Romy
Do you like my recipe? Say hello & leave me a little comment. Or simply follow me on Bloglovin to never miss a new post!
Thanks so much for sharing the love 😘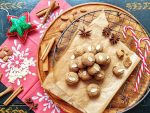 Ayurvedic Chai Cookies - vegan & naturally sweetened
Heavenly scented little cookies that will melt on your tongue. The dough is naturally sweetened and the ayurvedic spices such as cinnamon, ginger, cardamom and cloves have an energizing effect and provide for Christmas pleasure. ✨
Course Tags:
cookies, Dessert, Snack
Tags:
ayurvedic, chai spice, naturally sweetened, plant-based, vegan, vegetarian
Ingredients
Dry ingredients:
2

heaped tsp

loose Chai tea*

1 cup -1 Tbsp |

100 g

wheat flour | all-purpose flour

1 cup -1 Tbsp |

100 g

buckwheat flour

1 cup +1 Tbsp |

100 g

ground tiger nuts**

1 cup |

100 g

coconut blossom sugar

1

tsp

ceylon cinnamon

1

tsp

baking soda
Wet ingredients:
1/2 cup |

100 g

coconut soy yoghurt,

(or other plant-based yoghurt)

4 Tbsp |

80 g

almond butter,

(100% almonds)

2 Tbsp |

40 g

virgin coconut oil
Additionally:
sliced almonds for decoration
Instructions
Preheat oven to 170°C | 340°F and lay out a baking sheet with parchment paper.

Put the chai tea in a coffee grinder and grind for about 1 minute. Then pass the powder through a fine sieve and dispose of the larger pieces.


Put all dry ingredients in a large baking dish and mix.


Add the moist ingredients in succession to the flour mixture. First stir with a fork and then knead with your hands until a slightly moist dough has formed.


Now form approx. 40 cherry-sized balls and distribute them on the baking tray.

Finally, put an almond slice on each ball and then put the chai cookies in the oven for 10 minutes.

When they have finished baking, let the cookies cool on the baking tray.


When the cookies have completely cooled, it is best to keep them sealed in a cookie jar so they won't dry out. Enjoy!

Notes
* If you don't have loose tea, you can just cut open 4 teabags instead.   **Or sub with ground almonds.   I always choose organic produce whenever possible. It's not only better for my health (and yours, too), but also for our environment. 🌍💫💚