Little fingers are always looking for something to eat. Haha 😅
It was my birthday a few days ago. To celebrate the day, we had breakfast in a sweet little café in Frankfurt and then went to the Senckenberg Museum. If that doesn't ring a bell… it's a beautiful natural history museum. From huge dinosaurs to tiny hummingbirds you can spot pretty much any animal there. As a child, I always loved to go there (I had a passion for dinosaurs when I was 10 years old 🦖) and even now the museum doesn't fail to fascinate me again and again.
This was also the first time in a museum with a toddler for me and I must say: "Phew! That's quite exhausting, guys." Not only Keanu was so tired after the many new impressions and the endless exploration that he fell asleep immediately in the car on the way home. I was pretty exhausted too. So much so that I went to bed at half past nine. 🙈 Well, let's be real, you cannot always party (especially not as a mom of a world-discovering 2-year-old 😉).
Maybe I would have had more energy in the evening though, if someone had surprised me with this delicious Sweet Potato  Chickpea Salad for dinner (little hint to the dearest hubby 💕). When you come home after a long day, a warm, seductive scented meal is simply the perfect soulfood treat.
Anyways, you can make me happy with almost anything sweet potato. Whether it's sweet potato fries, sweet potato soup or sweet potato brownies, I don't mind. Everything sounds just mouth-watering good. Are you with me?
But back to the salad. Cause that's also mouth-watering and so easy to prepare. While the sweet potatoes bake in the oven, mix the dressing and cut your veggies. The most time consuming is probably the pomegranate. But you can easily prepare quite a lot for the salad  the evening before (or in the morning).
Peel, dice and season the sweet potatoes.
Core the pomegranate.
And you can also mix your dressing beforehand. The advantage of this is that the flavors have time to really develop well.
Keep the prepared things well-sealed in the fridge. Incidentally, you should rather cut the peppers fresh while baking the sweet potatoes. Then they stay really crisp & fresh.
For the next trip, I think I'll follow my own advice and do just that. Then a delicious dinner is on the table in no time. So, sit down! There is warm Sweet Potato Chickpea Salad with creamy Peanut Dressing waiting for you. 💛
I really hope you'll love this recipe as much as I do. Enjoy! xo, Romy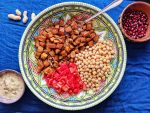 Sweet Potato Chickpea Salad with creamy Peanut Dressing
This sweet & spicy salad with its creamy peanut dressing is healthy soul-food at it's best. It's vegan & gluten-free, perfectly filling and a wonderful main dish but also works as a side. The fruity pomegranate and the fresh ginger give it a delightful freshness.
Servings
4
as main dish & 6-8 as side
Course Tags:
Dinner, Lunch, Main Course, Salad, Side Dish
Tags:
chickpeas, dairy-free, gluten-free, peanut, plant-based, protein, sweet potato, vegan, vegetarian
Ingredients
For the salad:
2

big sweet potatoes ,

peeled & diced

1

onion,

sliced

1

Tbsp

coconut oil or olive oil

1

tsp

coriander

1

tsp

ginger

1

tsp

cinnamon

1/2

tsp

garlic powder

pinches of

salt & pepper

1,5

cups

cooked chickpeas

1

red bell pepper

1/2

pomegranate,

seeds only
For the dressing:
2

Tbsp

peanut butter ,

(100% peanuts)

2

Tbsp

rice milk,

(or other milk of choice)

2

Tbsp

Tamari,

(or soy sauce)

1

Tbsp

maple syrup

1

lemon,

juiced

1

heaped Tbsp

chopped parsley ,

fresh or frozen

2

medjool dates,

pitted & diced

1/2

inch

fresh ginger,

peeled & grated

pinch of

garlic powder
Additionally:
2

Tbsp

peanuts,

unsalted

1

Tbsp

sesame seeds
Instructions
Preheat your oven to 180°C | 350°F.
Put the diced sweet potatoes, the onion, the oil and the spices in a bowl and stir until the potatoes are evenly covered with the spice mixture.


Put the potatoes on a baking sheet lined with baking paper and bake for 25 minutes in the oven.

The potatoes should now be rather soft.

While the potatoes are baking, you rinse the chickpeas and put them in a salad bowl.


Deseed the bell pepper, cut into cubes or strips and add to the chickpeas.

Add the pomegranate seeds, but keep some for decoration later.

Then you prepare the dressing. For this, put all the dressing ingredients in a small bowl and stir with a fork until you are left with a creamy dressing. (It is best to stir the peanut butter with the plant milk and the maple syrup before adding the other ingredients.)


Roast the peanuts and sesame in a pan WITHOUT oil over medium heat for about 5 minutes until golden brown. Keep stirring regularly, so that nothing burns! Remove from heat and set aside.


When the sweet potatoes are ready, put everything in the salad bowl with the chickpeas and bell pepper, pour over the dressing and stir well.

Sprinkle the remaining pomegranate seeds and the peanut sesame mixture over it. If you like, you can also decorate with fresh parsley. Enjoy!
Notes
I always choose organic produce whenever possible. It's not only better for my health (and yours, too), but also for our environment. 🌍💫💚