Today, I'll share a typical German recipe with you: potato salad it is.
This salad was fairly common on our table at home when I was a little girl and I always loved it.
My dad comes from Swabia and his love for Swabian food is still going strong today. We regularly had Maultaschen (some kind of ravioli), Spaetzle, Gaisburger Marsch (a soup) and potato salad.
But of course not any old potato salad with heavy mayonnaise or with bacon and sausages. No! The potato salad of my dad was already vegan at the time (purely coincidentally 🙂 of course). This is quite convenient because this way, I can still devour it in masses when I visit my daddy these days.
Sometimes my dad gets creative and likes to mix in some lamb's lettuce or cucumber. I got inspired by this today and also added radishes for a great splash of color. And the potato salad gets pretty crisp, too.
I'm really excited about what my dad will say when he suddenly finds his beloved potato salad recipe on the internet. Hah! He certainly won't expect that. 😅
Fresh & easy Potato Salad Ingredients
For a potato salad it's very important to use waxy potatos. As they will 'stay in shape' after slicing them and thus prevent your salad from becoming potato mash. 😉 I added lamb's lettuce and radishes to my salad to give it a fresh twist and make it crisp.
The vinaigrette is almost a classic with vinegar, oil, salt & pepper. But as I was inspired by my das's potato salad, I also added finely diced onion, some fresh and dried herbs and veggie stock for more depth of flavor.
How to make the Potato Salad
To make the potato salad, start by cooking your potatoes until they start getting tender. Be careful not to let them get too soft or your potato salad will turn mushy.
While your potatoes are cooking you can wash & clean the lamb's lettuce and slice the radishes. And start mixing your vinaigrette, of course. This is really quick & easy. You peel and finely dice an onion (or two shallots, if you prefer a milder taste), dissolve the veggie stock powder in hot water and mix all ingredients together. And you're already done. 🙂
When the potatoes are ready, leave them to cool a little (You can quicken the process by rinsing them with cold water for a few seconds. I often cook my potatoes the day ahead to avoid getting my fingers burned 😊). Peel your potatoes and thinly slice them all up.
Now simply combine the sliced potatoes and radishes in a pretty salad dish and pour over the vinaigrette. Stir and finally add the lamb's lettuce. Really leave this step until the end, as these young and soft greens wilt rather quickly once the vinaigrette hits them. So, if you're making this salad for meal prep leave the lettuce out and put it on the side or in an extra container.
This tasty potato salad keeps fresh for 2-3 days in the fridge. A little tip: The best thing is to pick out the lamb's lettuce before storing and eat it while it's still crisp. 🍃
At my dad's, the perfect match for potato salad is usually Spaetzle with gravy. I prefer combining the salad with my Chickpea Patties, falafel or other veggie patties. And it also goes great with sweet & smokey BBQ Tofu or fried Feto. Incidentally, Feto is fermented tofu and fried a real revelation. At least for me. 💚 Have you ever tried it?
So, now off to the cellar with you. Quickly fetch some potatoes and make deliciously fresh potato salad for dinner. It's snowing big flakes outside over here, but a little spring on the table cannot hurt, though. 🌷The leftovers (if there are any) will make a perfect filling for your lunch box tomorrow.
Enjoy! xo, Romy
Do you like my recipe? Say hello & leave me a little comment. Or simply follow me on Bloglovin to never miss a new post!
Thanks so much for sharing the love 😘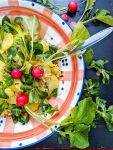 Fresh & easy Potato Salad - vegan & gluten-free
Quick & easy recipe for a fresh potato salad with a tasty vinaigrette. A perfect side dish for veggie patties & for grilled goods.
Course Tags:
Salad, Side Dish
Tags:
dairy-free, gluten-free, plant-based, potato, vegan, vegetarian, Vinaigrette
Ingredients
1,5

lbs

waxy potatoes

2

handfuls

lamb's lettuce

6

radishes
For the vinaigrette:
1/3 cup |

75 ml

hot water

1,5

tsp

vegetable stock powder

1

medium onion,

finely diced

5

Tbsp

white wine vinegar

2

Tbsp

olive or rapeseed oil

1

Tbsp

parsley (fresh or frozen),

finely chopped

1/2

tsp

dried chervil

1/4

tsp

pepper

1/4

tsp

salt
Instructions
Place the potatoes in a pot, cover with water and cook for 25-30 minutes. If you can pierce them with a fork, they are ready. Rather have your potatoes a little hard, than too soft. Otherwise, the potato salad will quickly become mushy.

When the potatoes are ready, let them cool before peeling and thinly slicing them.


For the vinaigrette, dissolve the vegetable stock in the water, add the remaining ingredients and mix well.


Now cut the radishes into thin slices, too. Put them in a salad bowl together with the potatoes, pour over the vinaigrette and mix well. Give it a taste and finally fold in the lamb's lettuce. Enjoy!

Notes
I always choose organic produce whenever possible. It's not only better for my health (and yours, too), but also for our environment. 🌍💫💚