Hey everybody! It's cherry season 🍒🍒🍒
We spent this weekend at my dad's house. He has a little garden bursting with currants, raspberries, gooseberries, and cherries. We picked, and picked, and picked… And ate our weight in berries til our bellies ached. Some of it was preserved into delicious berry jam, but one big bowl of sour cherries was reserved especially for this cake.
It's chocolatey, it's fudgy, vegan and refined sugar free, but the cherries totally take it to the next level. They give the cake this fruity and juicy freshness, so you just have to eat a second piece (or as in my husbands case a third 🤩).
Are you excited? Well, you should be. Go get some cherries and start baking!
To be honest, it was actually two little mistakes of mine, that turned this cake into the fudgy summer dream it is. Firstly, I prepared all the dry ingredients at home (before driving to my dad), and I just left out the baking powder, as I thought "Well, my dad will have this in his kitchen, so I can add it later." Hah! Of course I totally forgot all about the bp and just remembered it the second I put the cake into the oven. 🤷‍♀️ Secondly, I used almond flour instead of ground almonds. But sometimes all you need is luck, and a little mistake turns into a new recipe to share with your friends. 🍀😘
Here's the recipe just for you. I adapted it from the inspiring Deliciously Ella.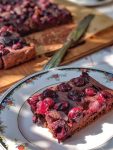 Fudgy Chocolate Cherry Cake
This fudgy chocolate cake is vegan, sweetened only with maple syrup, and can be turned GF in the blink of an eye. You can also top your piece of cake with a dollop of cool coconut yoghurt before digging in.
Now close your eyes and dream of summer. 🍒🍒🍒
Tags:
cake, cherry, chocolate, fudgy, naturally sweetened, plant-based, refined sugar free, sheetcake, vegan
Ingredients
Approx. 500 g fresh sour cherries*

1 Tbsp coconut or olive oil for greasing
Dry ingredients
300 g almond flour

200 g wheat flour*

50 g cacao powder

1 tsp Ceylon cinnamon

1/2 tsp ground vanilla*

pinch of sea salt
Wet ingredients
liquid of 1 400 g can of chickpeas,

Aqua faba

250 ml maple syrup

300 ml plant milk,

I used soy milk
Instructions
Preheat your oven to 175° C fan setting.

Grease a square cake tin (mine is 25 x 38 cm) with coconut or olive oil and line it with baking paper.

Remove the pits from your cherries.

Mix all dry ingredients in a big bowl, and make sure there are no lumps left.

Mix all wet ingredients in a separate bowl, and pour the mixture into the dry ingredients. Stir well to combine until a batter forms.

Pour the batter into the prepared cake tin, smooth it out and plop on the cherries. Carefully press them halfway into the batter.

Bake in the oven for 25 minutes. The cake will still be a little undercooked in the middle, but this results in the wonderful fudgyness once it's cooled.

Leave on a grid to cool completely before removing from the tin.


Cut into 16 pieces, serve with coconut ice-cream or coconut yoghurt and enjoy!
Notes
* I can only guess the weight here, as my dad just put the bowl with the freshly picked cherries in front of me, and I immediately started to remove the pits. * To make this cake GF, just replace with GF baking flour. * You can also use 1 tsp vanilla extract instead. This cake tastes even better on the second day. I always choose organic produce where ever possible. It's not only much better for my health (and yours, too), but also for our environment. 🌍💫💚 Inspired & adapted from
Deliciously Ella.