This Epic Vegan Snack Platter is really all you need for a perfectly cozy evening on the couch. Well, maybe apart from cuddly pillows, a good movie & good friends. 🙂
And the best part?
The creamy chocolate dip!!! Naturally . . . 😅
On second thoughts, it could be that you can assemble the platter according to your wishes and preferences.
You don't like persimmon? Take some grapes.
No peppers fan? How about celery?
Hummus is not your thing? Just try spicy salsa instead.
This snack platter post is meant more like an inspiration for you. And less like a recipe.
By the way, I was inspired by the Ultimate Movie Night Snack Platter from Green Kitchen Stories.
Thank you Luise & David! 😊
I tweaked it a bit here and there and created my own perfect little version of it. And now I'm sharing it with you.
Whatever you decide to add to your snack platter, you shouldn't go without these two things:
The wonderfully crispy Turmeric Grissini.
And the deliciously creamy chocolate dip.
Both are already delicious on their own. But combine them and you are left with an out of this world yummy snack.
Yes, I'm really talking about dunking the hearty grissini into the sweet chocolate dip.
And then to close your eyes and relish.
You're wrinkling your nose??
Just trust me on this one! You just have to try it too. So dreamy 🤤💛
If, contrary to expectations, you have some left-overs of the chocolate dip, you can upgrade your breakfast the next day. Simply spread it on some fresh bread or maybe dip it with a croissant. A delicious & healthier Nutella alternative.
You'll probably never buy any chocolate spread again. 😉

Ingredients for your Epic Vegan Snack Platter
For your snack platter, you'll need crisp, fresh fruit and veggies first.
I chose blood oranges, kaki and kiwi.
Oranges and persimmons are in season right now and kiwi provides a green splash of color.
For the veggies, I went all classical this time. Cucumber, carrots and sweet peppers it is.
Feel free to just take what you like best or what you have at home already.
As there always seem to be nut fans among snackers, I especially cracked some extra walnuts for my platter.
The funny shaped nuts (they always remind me of little brains 🙈) deliver delicious plant-based protein. Besides they are full of omega-3 fatty acids. Their content of alpha-linolenic acid is particularly high. These healthy fats keep cell membranes elastic, blood fluid and healthy heart and brain.
Healthy snacking at its best. 🙂
The crunchy part is taken by my Turmeric Grissini. And of course, there's also homemade hummus.
Cause let's be real, everything is better with hummus, right?
For those with a sweet tooth, I've also added chocolatey Bliss Balls to the snack platter.
And a heavenly chocolate dip. Which may or may not be the secret star of this little platter here.
It is made super quick and so easy. You only need 6 ingredients and it is naturally sweetened with maple syrup.
What's not to love?

How to make your Epic Vegan Snack Platter
The best way to start is with the Turmeric Grissini. They take about 30 minutes to make.
How you do it, you'll find out here.
And while they are baking and cooling, you can prepare the other components.
First prepare the Garlicky Kidney Cinnamon Hummus.
Next is the chocolate dip.
Simply mix all ingredients in a small saucepan and heat briefly on low heat.
As soon as a creamy sauce is created, the dip is already finished.
If you like it a bit more fluid, simply add 1-2 tablespoons of plant milk.
For me, the super creamy version is the best, though.
Not only is it somehow more decadent, it doesn't drip while dipping either. Win win! 😉
Now only the Bliss Balls are missing.
After mixing the ingredients and forming countless little balls, all 'elaborate' preparations are done.
The fruits & veggies are best prepared right at the end, so that they stay fresh and crisp.
Just cut them up in handy sticks or something like that.
Et voila! There you have it. Your snack platter is already finished.
Let's start snacking!
You don't want to prepare everything on your own?
Then invite yourself some friends to help you tinkering your epic vegan snack platter (and making an epic mess of your kitchen as they go 😅).
Followed by a movie night or games evening, of course.
Everyone can bring along something sweet or savoury to add to the feast and everyone will be happy as can be. 🙂
I'm sure you'll remember this evening for a very long time.
Food for your body & soul, virtually. 💫
Happy snacking! xo, Romy
Do you like my recipe? Say hello & leave me a little comment and give this recipe a rating.
I absolutely love to hear from you.
And don't forget to follow me on Pinterest, Bloglovin  & Instagram to never miss a new post!
Thanks so much for sharing the love 😘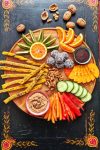 This tasty vegan snack platter has it all - crispy grissini, fresh fruit & veggies, delicious dips and even some heavenly bliss balls. Healthy & mouth-watering for sure!
Tags:
dip, fruit, healthy, party food, plant-based, vegan, veggies
Ingredients
For the creamy chocolate dip:
2

Tbsp

pure almond butter

2

Tbsp

maple syrup

2

Tbsp

oat milk*

2

tsp

cocoa powder

1/4

tsp

cinnamon

1/4

tsp

cardamom
For the snack platter:
1

persimmon

1

kiwi

1

blood orange

1/2

cucumber

1

red sweet pepper

3

small carrots

1

handful of

walnuts

1

batch of

homemade hummus**

1

batch of

carob bliss balls***

1

batch of

turmeric grissini****
Instructions
For the creamy chocolate dip:
Put all ingredients in a small pan over low heat.
Stir until you get a creamy chocolatey sauce.

Pour in a little bowl and let cool.
For the snack platter:
Cut your fruit and veggies in sticks and slices.

Place the walnuts in the middle of your platter.


Arrange the bliss balls, grissini and bowls with hummus & chocolate dip around them.


And finally surround everything with the cut fruits and veggies.
Dig in and enjoy!
Notes
*Rice milk or almond milk work well too. They also make the dip gluten-free. **Try my
Garlicky Kidney Cinnamon Hummus
. ***Find the recipe for my Handmade Carob Bliss Balls
here
. ****Learn how to make crispy Turmeric Grissini
here
.  
I always choose organic produce whenever possible. It's not only better for my health (and yours, too), but also for our environment. 🌍💫💚