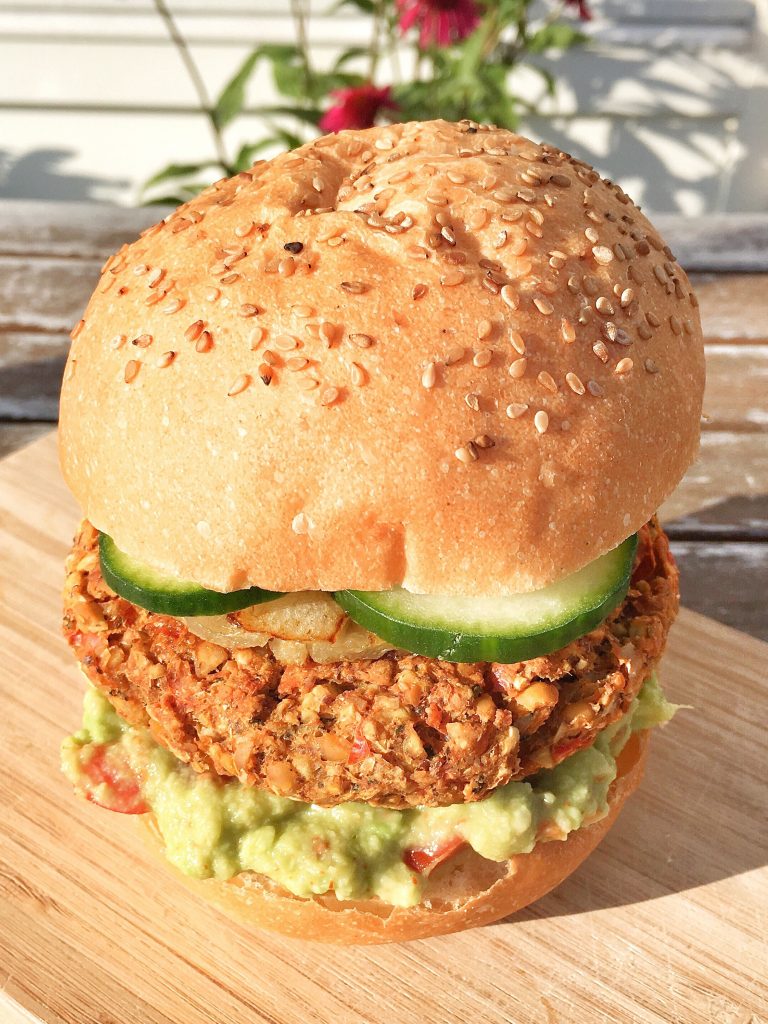 Veggie patties are my (not so) secret passion. It all started with the incredibly delicious sweet potato patties by Jessica from Howsweeteats. These vegetarian (they contained egg) burger patties showed me 6 years ago (oh my gosh, where has time gone 🙈) that a burger without any meat tastes so much better. In the past, my burgers were literally drowned in ketchup, because I wanted to cover the meaty taste (though I wasn't really aware of that at the time 🤷‍♀️). Don't get me wrong, I love ketchup, but today all I need is a blob on my burger, and I'll devour it with pleasure.
In the meantime, I've veganized and tweaked Jessica's recipe a little and they are just as good. I just realized that it's been a while, since I last had them. 😅  I definetely need to make these awesome patties again soon.
I'll stop rambling now, cause today it's all about these little bad boys: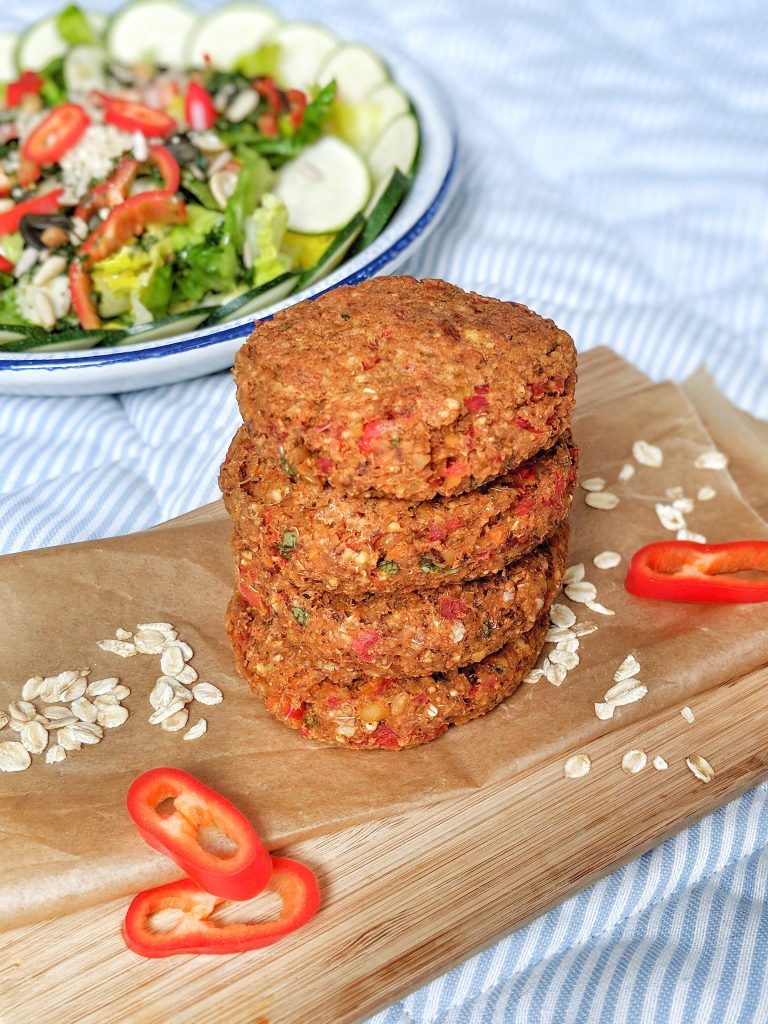 These spicy and crunchy chickpea patties are baked in the oven. This doesn't only save you the annoying frying, but also fat & calories. Win win 🙌 The patties are full of healthy vegetables and the chickpeas are a great source of protein and minerals. Carrots and peppers contain lots of vitamins A & C and minerals like potassium, magnesium, zinc & calcium. Chickpeas have about 20g of protein|100 g, 6 mg iron|100 g and their calcium content of 124 mg|100g is about the same as in milk. An all-round healthy balanced pattie, don't you think?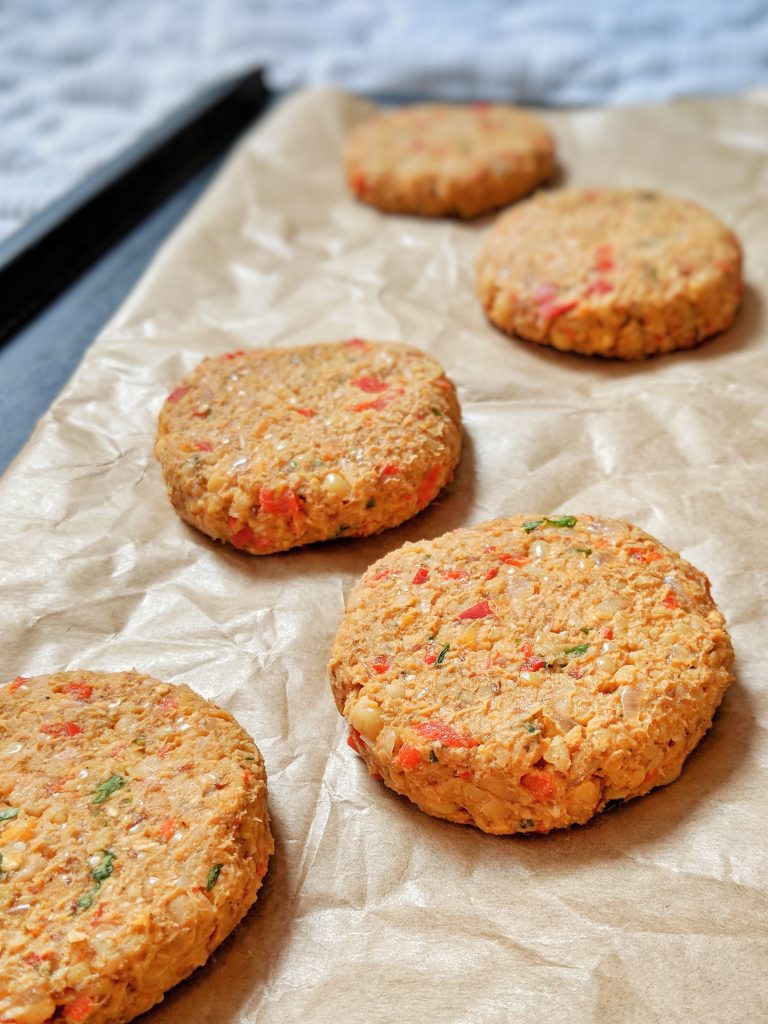 While the patties are baking, it's the perfect time to prepare a salad, some pasta, the sauce, etc., whatever you want as a side dish for your patties. Or you can do it like me: simply cut some cucumber and tomato slices, make creamy guacamole and enjoy your patties as a veggie burger. 🍔💚
The patties have a rather firm consistency after baking and therefore can be wonderfully placed on the BBQ, without immediately falling apart at the first turn. I usually prepare twice the amount and then freeze half of the finished patties to have a little pattie supply for times of need. Outrageously hungry? Just get a pattie out of the freezer, slowly sauté on low heat with some oil in a pan and enjoy. 😊
Do you have a favorite veggie pattie recipe, too? Then feel free to leave me a little inspiration in the comments. ✨
XO, Romy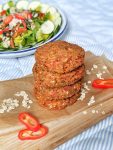 Easy Chickpea Patties - vegan, gluten-free & oil-free
These healthy & hearty chickpea patties are full of good stuff and perfect for veggie burgers or BBQing. They are baked in the oven and are perfectly crispy on the outside without any added oil. Enjoy!
Tags:
chickpeas, gluten-free, low fat, oil-free, plant-based, vegan, vegetarian, veggie patties
Ingredients
1

onion, quartered

1

red bell pepper, roughly chopped

1

medium carrot, roughly chopped

2

gloves of garlic

1x 400

g

glas of chickpeas, drained & rinsed

1/2

cup

ground up gluten-free rolled oats

1

Tbsp

chickpea flour*

1

tsp

guar gum or arrow root starch (optional)**

2-3

Tbsp

chopped parsley (fresh or frozen)

1

Tbsp

Tamari

1

tsp

paprika

1/2

tsp

garlic powder

1/2

tsp

ground coriander

1/4

tsp

pepper

pinch of cayenne
Instructions
Preheat your oven to 190°C|375°F.

Put your veggies, onion, garlic and chickpeas into a food processor and pulse until the veggies are finely chopped. You still want some bits and pieces in your patties, so be careful not to let it get too mushy.

Transfer the mixture to a big bowl and add the remaining ingredients. Now mix everything through well. I always use my hands and knead it until I'm left with a rather dough-like consistency. (Use disposable gloves for less of a mess 😉).

Form 6-8 patties and put them on a parchment-lined baking tray.

Bake your patties 20 minutes, carefully flip them, and bake them for 20 minutes more.

That's it! Now you can enjoy your quick & easy chickpea patties on a burger, on a salad or as a side with some pasta, potatoes, whatever 💚
Notes
*You can easily sub this with a flax-egg.   **This will give your patties a better binding.   I always choose organic produce whenever possible. It's not only better for my health (and yours, too), but also for our environment. 🌍💫💚   Inspired by & adapted from
Emilieeats
.