I absolutely looove burgers. Veggie burgers, of course. Whether with chickpea patties, veggie patties or grilled Portobello mushrooms. You name it, I love them all. 🙂
But for burgers, not only the inner values ​​count for a change. Oh no, the outside is just as important. What I'm playing at? The burger buns, of course. They must be soft and fluffy, not too dry, while not being stuffed with unnecessary ingredients & chemicals.
And there we have the sticking point. Have you ever looked at the ingredients list of store-bought burger buns? Chances are good your burger cravings pass away immediately. And unfortunately organic burger buns aren't really an exception. 🤷 The list of ingredients is sometimes endless and I often wonder why all that stuff needs to be in the little buns. Do you feel me?
Let's be honest, a good burger bun only needs 6 ingredients: flour, fresh yeast, water, margarine, sugar & salt. It's that simple. So what's the solution to the problem? 🤔 Homemade burger buns, for sure. 🙌
I always bake 12 burger buns at once and freeze 8 of them. 1x work, 3x pleasure. After being thawed (preferably in a plastic bag or tupper box to keep them soft), the buns are as soft and fluffy as freshly from the oven.
And because I'm feeling fancy, today's recipe is a colorful one. It's Homemade Pink Burger Buns with Chia. 💕 They are a great splash of color on your plate, very easy to make and is healthy, too. Tripple win! You simply add beetroot juice to the dough instead of water. Vitamins and minerals are added for free.
I have replaced the margarine with a healthier alternative. Can you guess, what it is?  … * drum roll * … plant-based yogurt & olive oil. This makes no difference in taste, but compared to margarine it's definitely the better choice (less fat & no chemicals). I also added chia seeds to the dough. Not only do they have plenty of healthy Omega-3 fatty acids, they also make sure that your burger buns are especially soft and not dry. And they make for little black dots all over your buns. Fits great to pink, no?
Just look at all that pink fluffiness!
You would rather have a different color, I hear you say? No problem, friend! Try turmeric or saffron for yellow burger buns 💛 and spirulina powder or spinach for green buns. 💚 Colors are life. 🌈
So now it's time to roll up your sleeves & go to town kneading your dough. As a reward warm, soft, wonderfully pink burger buns are waiting for you. Of course, you can always enjoy the buns on their own, no burger patties required here (just in case there is no pattie at hand, poor soul). I totally love them with hummus or strawberry jam. 🍓
Have fun baking and enjoy! xo, Romy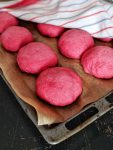 Homemade Pink Burger Buns with Chia
Fluffy soft burger buns that do not crumble and make every burger perfect. Beetroot juice provides the pretty pink color and also makes the buns a little healthier. Just the perfect homemade burger buns. 💕
Course Tags:
Dinner, Lunch, Main Course
Tags:
beetroot, burger, Chia, dairy-free, homemade, plant-based, vegan
Ingredients
4

cups

all purpose flour*

1

Tbsp

chia seeds

1

tsp

sea salt

1

tsp

guar gum (optional)**

1

cup

beetroot juice

1

tsp

raw cane sugar

1

cube

fresh yeast,

crumbled

3

Tbsp

soy coconut yoghurt***

1

Tbsp

olive oil
Instructions
Preheat oven to 180° C | 360° F.

Mix flour, chia seeds, salt & guar gum in a large bowl.


Lightly heat the beetroot juice in a pan. IMPORTANT: the juice should really only be lukewarm (ideally 35-38° C | 95-100° F), otherwise the yeast will die and your buns will turn out rock hard.

If you are unsure, simply test with a spoon on your wrist. If it feels pleasantly lukewarm there, it's the right temperature.

Pour the warm juice into a small bowl and add the sugar and yeast. Stir well until the yeast has dissolved.

Add the yeast-juice mixture, the yoghurt and the oil to the dry ingredients and mix everything into a dough. Then knead for 5 minutes on a lightly floured surface until you have a flexible, slightly moist yeast dough.


Form 12 round burger buns and place on a baking sheet lined with baking paper. Cover with a dishcloth and leave in a warm place for 1 hour.

After the resting time, the buns should have visibly enlarged. Now bake them for 12 minutes.

Allow the finished buns to cool on a stove rack.
Notes
The burger buns can be easily frozen and after thawing taste just as fresh and delicious.   * I have used all purpose wheat flour. You can also replace some of the flour with wholegrain flour, but the consistency of the buns will be less fluffy then.
 
** The guar gum ensures that the buns stay a bit 'moist' inside and thus get the perfect burger bun consistency.
 
*** Or any other plant-based yoghurt of your choice.   I always choose organic produce whenever possible. It's not only better for my health (and yours, too), but also for our environment. 🌍💫💚