The first time I bit into a summer roll, I was quite irritated somehow.
It was cold.
It wasn't fried.
It wasn't love at first bite.
I couldn't understand, why everyone was making such a fuss about it.
But I didn't give in, and tried it a few more times.
Over time I learned to love it, and now I'm even writing this recipe post.
Who would have guessed? Not me, obviously. 😅
For me the perfect summer roll needs 3 things: really fresh and crisp veggies, some sweet fruit (e.g. mango, peach, apple, pineapple), and a delicious dip, like my Spicy Peanut Mango Dip. It's naturally sweetend and sooo addictive.
For this recipe I also added some marinated mushrooms. They give a hearty component to the rolls and are a nice contrast to the sweetness of the mango. But if you aren't a mushroom fan, you can easily substitute them for some sprouts or cabbage, for example.
Here's a little GIF to help you rolling the perfect summer roll. Easy, right?!
As I couldn't decide what to put inside my summer rolls this time, I made 2 different versions:
Version No. 1 – I started with mango slices, then some glass noodles, and the veggies (except the radishes) and 6 mushroom slices on top.
Version No. 2 – I put a few radish slices on the rice paper, followed by 1 lettuce leaf, the veggies, mango and mushrooms.
Et voilà:
Now start rolling and tell me, which version you do like best.
What's your favourite summer roll filling? I'd love to get some inspiration from you, guys.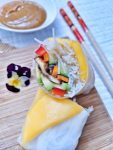 Vegan Summer Rolls with Mango
These fruity summer rolls are the perfect dinner on a hot summers evening. They are fresh and light and will leave you satisfied, but not heavily full. Enjoy them with soy sauce or some creamy peanut dip.
Course Tags:
Main Course, Side Dish
Tags:
fresh, gluten-free, healthy, low fat, mango, plant-based, summer food, vegan
Ingredients
For the marinated mushrooms
5

mushrooms

4

Tbsp

tamari sauce

1

tsp

garlic powder

1/2

tsp

coriander spice

1/2

tsp

paprika

pinch of

cayenne pepper, ground ginger and curry powder
For the summer rolls
100

g

glass noodles

1

medium carrot

1/3

cucumber

1

small red pepper

3-4

radishes

1

avocado

1/2

ripe mango

3

green lettuce leaves,

washed and dried

some fresh parsley or coriander leaves

6

rice papers
Instructions
For the marinated mushrooms
Slice the mushrooms (2-3-mm), put them in a bowl with the remaining ingredients and stir well.

Make sure all the mushrooms are well coated, and let them sit for at least 4 hours in the fridge. The mushrooms will release some juice and get softer while marinating.
For the summer rolls
Cook your glass noodles according to package instructions. Set aside and let them cool down.

Wash the carrot, cucumber, pepper and cut them into thin, approx. 10 cm long slices. Peel the avocado and mango and cut them, too. Slice the radishes.

Fill a large bowl with warm water. Take 1 rice paper and dunk it in the water for 5 seconds (not longer! Otherwise it will get too soft and tear easily when you try to roll it up later). Then place it on a large plate.

Now you can fill it with your prepared veggies, carefully fold the rice paper and roll it up.
Notes
I always choose organic produce whenever possible. It's not only much better for my health (and yours, too), but also for our environment. 🌍💫💚