Hot, sweet and aromatic Apple & Parsnip Soup is just perfect for when your stomach is longing for something warm & nourishing. Right now, in February, I often feel that way.
I have to admit it now. Winter isn't my season. At all.
Once the Christmas season is over and the little snow has melted away, unfortunately there isn't that much left over that could sweeten this gray, wet, cold season.
Please tell me that you know what I mean . . .
And that's exactly where a sweet, light & warming soup comes in handy.
The fruity-sweet combination of apples and parsnips really works surprisingly well with the warm spices of the soup. By the way, the sweet taste of the soup always reminds me a bit of spring.
And thus sparks a little anticipation in me.
Anticipation of warmer temperatures, sunshine & sweet floral scents.
Since the soup happens to be completely without any cream or coconut milk, it's also a good choice if you're working on your summer body already.
Spring, we're so ready for you! 🌷🙂
Sweet Apple & Parsnip Soup Ingredients
Apples as ingredients in a soup may sound a bit strange at first sight. But don't judge too hasty. Because apples are almost a classic ingredient in pumpkin soup or sweet potato soup. They are adding a fruity-sweet note and even make the soup creamier by the way.
Parsnips are a white root vegetable and remind of the shape of carrots. They are full of vitamin C & D and minerals like calcium and phosphorus. Their taste is rather sweet. Thus they are the ones who give this little soup its sweet taste. So sweet that you totally don't need any additional sweetening. 🙂
The bell pepper is another vitamin C bomb. But it also contains many minerals such as potassium, magnesium, zinc & calcium. In addition, it's very low in calories.
The onion and spices give the soup a hearty note, without disturbing the sweet aroma.
Cashew nuts and chives are the icing on the cake (or soup in this case).
This way it gets some crunch & proteins from the nuts. And fresh hearty green kick from the herbs. 🌱
How to make Sweet Apple & Parsnip Soup
Making this soup is a total no-brainer. Just a little veggie chopping, some cooking and in no time there are two steaming bowls of fragrant, creamy soup on your table. Easy!
First you peel the parsnips and the onion and cut them into small pieces. Then you core the apples and the pepper and chop both roughly into larger pieces. Both have a shorter cooking time and this way soften at the same time as the parsnips.
Next, heat the olive oil in a large pot and add the diced onion. Stir for a few minutes and let it turn glassy.
But be careful not to let it turn brown.
Add the chopped vegetables and apples and let fry for another minute.
Sprinkle the spices over it and pour in the water and almond milk. Now let the soup simmer with the lid closed for 20-25 minutes. When the parsnip pieces are soft, the soup is ready.
Take the pot off the stove and purée the soup with a hand-blender.
While the soup is cooking, you can roast the cashews in a dry! frying pan golden brown. Be sure to have an eye on it and stir regularly. Nuts can burn rather quickly when roasting.
Serve the soup in two soup bowls. Then sprinkle them with the roasted nuts and fresh chives. If you like, you can also cut some fresh paprika into strips and add it.
Finally, you drizzle a little of your favorite olive oil over it. Enjoy!
Of course, every soup meal is only perfect with some thick slices of fresh, crispy bread. After all, such a soup wants to be dunked.
If you need a hearty contrast to the sweetness of the soup, just fry some tofu in a pan. I like to season it with soy sauce (or tamari), pepper, paprika & garlic powder. And easy like that you have a crispy & spicy soup insert.
I really hope you'll like my sweet (and a little offbeat) soup as much as I do.
Every now and then the stomach needs a sweet soup, after all. 😉
xo, Romy
Do you like my recipe? Say hello & leave me a little comment and give this recipe a rating.
I absolutely love to hear from you.
And don't forget to follow me on Pinterest, Bloglovin  & Instagram to never miss a new post!
Thanks so much for sharing the love 😘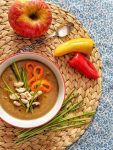 Sweet Apple & Parsnip Soup - vegan & gluten-free
This vegan & gluten-free soup is a sweet and cozy treat. And so easy to make. The sweetness of apples & parsnips is in perfect harmony with the spices and surprises every soup fan.
Course Tags:
Dinner, Lunch, Main Course, Soup
Tags:
apple, dairy-free, easy, gluten-free, low fat, parsnip, plant-based, vegan
Ingredients
1

Tbsp

virgin olive oil

1

onion,

diced

2

parsnips,

peeled & thinly sliced

2

apples (sour & fruity sorts work best),

cored & chopped

1

yellow bell pepper,

cored & chopped

1 cup |

250 ml

almond milk

1 cup |

250 ml

water

1

tsp

allspice

1

tsp

coriander

1/2

tsp

garlic powder

1/2

tsp

salt
Additionally:
1

handful

cashews,

roughly chopped

chives

some good virgin olive oil (optional)
Instructions
Heat the olive oil in a large pan over medium heat and sauté the onions for a few minutes. Make sure they do not turn brown.

Add the chopped vegetables and apples, stir and let it sauté for another minute.


Sprinkle the spices over it and add in the almond milk and the water.


Let the soup simmer for 25 minutes with the lid closed.


While the soup is cooking, you can roast the cashews in a dry pan until golden.


When the veggies are soft, remove the pot from the heat and purée the soup with a hand-blender until totally creamy.


Serve the soup in large bowls decorated with the roasted cashews and chives.
If you like you can also add a few extra slices of bell pepper and drizzle some good olive oil over it.

Enjoy!
Notes
I always choose organic produce whenever possible. It's not only better for my health (and yours, too), but also for our environment.
🌍💫💚