What's the one thing that must not be missing on any movie night (apart from an engrossing movie obviously)??
Well, tasty crunchy nibbles, of course!
Like my vegan turmeric grissini. You guys, these little bread sticks are so much better than any boring fatty old crisps.
They are spicy, super crispy, quick & easy to make and good for you, too.
The weekend is about to start and tonight we'll have a little movie night. Or rather some Game of Thrones binge-watching.
After all, the new season is coming out soon and I want to get in the right mood. Don't we all? 😉
That's why I thought, I'll make some little snack to nibble on. I always need some crunchiness for the perfect movie night.
Do you feel me?
And because I absolutely love grissini, I was inspired by the Italian bread sticks.
My version of it is spiced with turmeric and sprinkled with different seeds.
This is not only delicious, but also makes the grissini a healthy snack, too. Whoohoo 🙌
What makes turmeric so healthy
Turmeric contains the active substance curcumin. It has an anti-inflammatory effect, is antioxidant, reduces the risk of brain and heart diseases and can even protect against cancer. Combined with black pepper, a multiple of curcumin enters the bloodstream and the positive effect is naturally enhanced.
Conveniently, most Indian curry mixes contain turmeric and black pepper.
So don't hesitate to spice your dishes with a pinch of curry more often. 🙂
If you want to learn more about turmeric and its positive effects on your health, then take a look at Michael Greger's Nutritionfacts.org.
Vegan Turmeric Grissini ingredients
For my grissini you only need 7 ingredients, some water and different seeds for sprinkling. You probably already have all the ingredients at home and don't even have to go shopping.
For flour, I decided to use all-purpose flour this time, simply because the warm yellow color of turmeric comes out better this way. You can, however, replace half of the flour with wholegrain flour, if you like it a bit more rustic.
Or use spelt flour, if that's more your thing.
The grissini are made with baking powder instead of yeast.
So there is no tedious resting time involved and the grissini can be baked in no time.
Turmeric in combination with black pepper makes the grissini a healthy snack.
And the various seeds also provide protein, minerals and healthy fats.
How to make the Turmeric Grissini
Making the grissini is really a piece of cake. As long as you call a rolling pin your own, nothing can go wrong. 🙂
First, mix flour & spices together and then add olive oil & water.
Knead the mixture with your hands (or the dough hook of your blender) until you get a smooth dough.
If the dough is too dry and crumbly, add some more water (preferably a teaspoon at a time).
If it's too moist and sticks to your hands, simply knead in a little more flour.
Roll out the dough on a lightly floured surface and cut it with a sharp knife about 1/2 inch | 1 cm wide strips. Then brush them with a little water and sprinkle them with sesame, chia & poppy seeds. Lightly press the seeds into the dough with your fingers, so that they won't fall off so quickly after baking.
Now place the grissini on a lined baking sheet and slide them into the preheated oven for 15-20 minutes.
If you're feeling fancy, you can curl some of the grissini into spirals before baking.
That's totally optional but pretty, though.
After cooling, the nibbling fun can already begin.
The turmeric grissini are a great school & office snack, and a stable for every movie night at our house.
I like dipping them in creamy home-made hummus or spicy salsa.
And most of the time, I also quickly make some crispy veggie sticks for a few fresh extra vitamins. 🌶🥒🥕
I'm curious how you like my turmeric grissini.
Do you also enjoy munching away on crunchy things while watching a movie?
And while we're at it . . . do you have a new favorite movie that I have to watch?
Or some not to miss series recommendation?
Feel free to leave me some inspiration in the comments, friend. 😊
Now have fun baking & enjoy crunching.
Crunch, crunch! xo, Romy
Do you like my recipe? Say hello & leave me a little comment. Or simply follow me on Bloglovin to never miss a new post!
Thanks so much for sharing the love 😘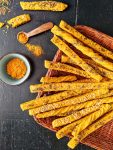 How to make Vegan Turmeric Grissini
Spicy vegan Grissini that owe their warm golden color to turmeric. The spice also makes this tasty snack healthy and good for you. 💛
Course Tags:
Appetizer, Snack
Tags:
dairy-free, Grissini, plant-based, turmeric, vegan, yeast-free
Ingredients
1,5 cups |

150 g

wheat flour

1

tsp

baking powder

1

tsp

turmeric

1/2

tsp

garlic powder

1/2

tsp

salt

1

pinch of

black pepper

3

Tbsp

olive oil

6

Tbsp

water
Additionally:
1

tsp

chia seeds

1

tsp

poppy seeds

1

tsp

sesame seeds
Instructions
Preheat your oven to 200°C | 390°F.

Lay out a baking tray with baking paper.

Put the flour, baking powder and spices in a bowl and mix.


Add olive oil and water and mix first with a fork, then knead with your hands until you have a smooth dough.

Maybe you need to add a little more water or flour until the consistency is right.

Roll out the dough on a lightly floured surface (approx. 2 mm thick). Then cut narrow strips with a knife.


Brush the dough strips with water and sprinkle with chia, poppy and sesame seeds. Press the seeds lightly into the dough.


Place your grissini on the baking sheet and bake for 15-20 minutes (depending on your oven).


You can curl some of the grissini into spirals before baking, if you like.


Allow the finished grissini to cool completely on a wire rack and enjoy.

Notes
*You can also try black caraway or unhulled hemp seeds instead.  
I always choose organic produce whenever possible. It's not only better for my health (and yours, too), but also for our environment. 🌍💫💚