Everytime I'm visiting my in-laws in Flensburg, I end up baking a cake there. Anyone who follows me on Instagram could already admire my latest creation from a few weeks ago: a perfectly juicy delicious plum cake. That was a pretty spontaneous idea because on that day we had gotten really ripe & juicy plums at the farmers market. If you have plums,  you bake plum cake, right ?! 🙂
In the Flensburg version, I used this recipe with some adaptions and we were not disappointed. The cake tasted great and was eaten within half an hour.
When I set to recreate my little cake back at home, first I considered whether I could  make it a little healthier, without that showing in the taste (if you know what I mean 😉).
I wanted to reduce the amount of fat and replace the sugar. Said and done! The sugar was simply replaced by maple syrup, the coconut milk by oat milk and the coconut oil by Aqua Faba. The cake turned out much lighter and more fluffy now. Just awesome, what chickpea water can do. 💛
Today's version of an apple & plum cake was simply inspired by fate. 🤷‍♀️ I somehow bought not enough plums this time, and thus I had to add  a few apple slices to the cake. Also super delicious and that's why you get the recipe here today. The batter is really perfect for just about any kind of fruit, though. I will definitely bake it with strawberries, rhubarb and peaches next year. So dreamy 🍓🍑✨
And for a nut-free version, simply replace the ground almonds with tigernuts and sprinkle the cake with cinnamon or coconut chips instead of almond slices.
Have fun baking and enjoying. 😘 XO, Romy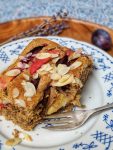 Vegan Apple Plum Cake - oil-free & naturally sweetened
A wonderful fluffy & light sponge cake topped with fruity apple and plum pieces. All baked without any sugar and oil | margarine. Get baking, guys! 🍎
Course Tags:
Cake, Dessert
Tags:
almond, naturally sweetened, oil-free, plant-based, plums, vegan
Ingredients
Dry ingredients:
100

g

whole wheat flour

100

g

wheat flour

50

g

corn starch

80

g

ground almonds

1

tsp

baking powder

1/2

tsp

baking soda

1/2

tsp

ground vanilla
Liquid ingredients:
200

ml

oat milk*

60

ml

aqua faba**

120

g

maple syrup

1

tsp

almond extract

1/2

lemon

juice of a lemon
For the topping:
18

plums,

halved & stoned***

1

small apple,

cored & sliced

2

Tbsp

almond slices
Instructions
Heat your oven to 170°C|340°F.

Grease a baking pan (I used a rectangular shape, but you can also take a round one) with a tablespoon of coconut oil and then flour it.

Put all the dry ingredients in a large bowl and mix with a whisk.


Pour all liquid ingredients into a measuring cup (where you can also measure them at the same time) and stir briefly.


Add the liquid over the flour mixture and stir with the whisk til you get a smooth dough. Please don't overmix, otherwise the cake will be tough.


Put the finished dough into the prepared baking pan and cover the dough with the pieces of plum and apple.

Finally sprinkle on the almonds and put the cake in the oven for about 35-40 minutes.

It is best to do the knife test after 35 minutes and if there is still some dough hanging on, let the cake bake for another 5 minutes.

Let the finished cake cool in the mold on a wire rack.

Notes
*Or another plant milk of choice.   **The liquid of a can/glass of cooked chickpeas.   ***If you prefer a 'pure' plum cake, simply leave out the apple and take a total of about 25 plums instead.   I always choose organic produce whenever possible. It's not only better for my health (and yours, too), but also for our environment. 🌍💫💚