Guys, it's already November.
On some days you can already smell that winter is just around the corner. It's rainy, cold & grey.
The perfect time for sinfully creamy, melt-in-your-mouth Peanut Caramel Brownie Cake, though.
Am I right?
Imagine you have a big slice of Peanut Caramel Brownie Cake in front of you. The seductive chocolate scent rises to your nose. You take a cake fork and slowly stab into your brownie slice. It's wonderfully soft & gooey and the creamy caramel runs a bit down the side. You close your eyes and pop the fork full of brownie into your mouth with relish.
The delicate brownie combines beautifully with the creamy-sweet caramel and the slightly tart chocolate topping . . . an absolute chocolate dream. 💛(Where is the brown heart emoji when you need it? 🤷‍♀️)
Now stop daydreaming, my friend.
Are you already drooling a little? 🤤
I won't tell, big promise!
But just between ourselves, this gorgeous brownie treat is at least as delicious & indulging as you've just imagined.
And do you know what's best about this little sweet sin?
My Peanut Caramel Brownie Cake is secretly healthy.
All the indulgence and no bad conscience afterwards.
Whaaat???
No way!
You're kidding!
That's nothing to joke about. Have some trust and believe me (even if that's maybe a little difficult if something looks and tastes so sinfully delicious).
The brownie is baked without flour or fat, but with oats & chickpeas (no reason to frown, you won't taste a thing 😉). The caramel is made of dates and the whole cake is vegan and naturally sweetened, with coconut sugar, dates & maple syrup.
Oats contain lots of fiber & minerals like magnesium, iron & zinc. Chickpeas provide plenty of plant-based protein (7.5 g | 100 g) and also magnesium, iron, copper & vitamin K. Dates not only contain many vitamins & minerals but are also rich in antioxidants. These can help in the prevention of diseases like diabetes, heart disease and cancer.
Well, did I convince you? This Peanut Caramel Brownie Cake is the perfect treat for body & soul. Give it a try soon. The cake will melt on your tongue, but without making you feel bloated or tired after enjoying it. Instead, a wonderful contentment spreads inside of you and you'll be in a good mood and have energy for the rest of the day. 😊
So the perfect sweet goodie for rainy November afternoons. Grab a nice pot of freshly brewed tea and share your Peanut Caramel Brownie Cake with your favorite people.
For shared cake happiness is double cake happiness 🍀✨💚
Enjoy & leave me a little comment how you liked it. xo, Romy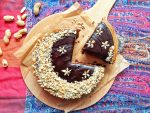 Peanut Caramel Brownie Cake - vegan & secretly healthy
This melt-in-your-mouth Peanut Caramel Brownie is a creamy, fudgy, chocolatey deliciousness. It's naturally sweetened & has lots of healthy ingredients, too. The perfect little treat!
Course Tags:
Cake, Dessert
Tags:
Brownie, chickpeas, dairy-free, naturally sweetened, peanut, plant-based, vegan, vegetarian
Ingredients
For the brownie base:
1

cup

cooked chickpeas,

drained & rinsed

1/3

cup

peanut butter (100% peanuts)

6

Tbsp

oat milk

3

Tbsp

maple syrup

1/2

cup

oat flour (ground oats)

4

Tbsp

coconut sugar

2

Tbsp

cocoa powder

1

Tbsp

carob powder (optional)*

1/2

tsp

baking powder

1/4

tsp

baking soda

1/2

tsp

ground vanilla

1/2

tsp

cinnamon

1

pinch of

salt (optional)
For the caramel layer:
2/3

cup

peanut butter (100% peanuts)

4

medjool dates,

pitted

1/4

cup + 1 Tbsp

oat milk
For the chocolate topping:
1,5

Tbsp

cocoa butter**

2,5

Tbsp

maple syrup

1,5

Tbsp

cocoa powder

1/2

tsp

cinnamon

1/2

tsp

cardamom
Additionally:
2

Tbsp

roasted peanuts,

chopped for decoration
Instructions
For the brownie base:
Preheat your oven to 175°C | 350°F.

Grease a round 18 cm|7 inch cake pan with a little coconut oil.

Add the chickpeas, peanut butter, oat milk & maple syrup to a food processor and blend until smooth.


Put the remaining dry ingredients in a bowl and mix well. Then add to the wet ingredients in the food processor and mix everything to a relatively tough dough.


Put the dough into the prepared cake pan and bake in the oven for 15 minutes. Cool on a wire rack in the mold.

For the caramel layer:
While the brownie cools, you can prepare the date caramel.

Just put all the ingredients in a food processor and mix to a creamy mass. That takes about 1 minute.

Spread the caramel evenly over the cooled brownie and refrigerate the cake for 30 minutes.

For the chocolate topping:
Melt the cocoa butter in a small saucepan over low heat.

Add the remaining ingredients and stir well until a shiny chocolate sauce is produced.

Spread the chocolate on top of the caramel layer and refrigerate the cake for at least one hour before serving.

Notes
TIP: This cake tastes even better on the second day. So it's perfect to prepare for a party or celebration.   * The carob powder adds extra sweetness and a chocolaty caramel flavor.
** I have used little drops as they are easier to portion. 
The recipe for the brownie base is inspired by
Vegan Richas peanut butter chickpea cookie pie
.   I always choose organic produce whenever possible. It's not only better for my health (and yours, too), but also for our environment. 🌍💫💚