It's autumn…it's the middle of october…it's time for some delicious pumpkin cake, right?! Awesome! So here we go. Today's creation is a Vegan Pumpkin Cake with Cherries and a creamy Yoghurt Drizzle. Cause let's be honest, all good cakes just need some drizzle on top. 🙂
This little cake is naturally sweetened and cakey & fudgy at the same time. Do I need to say anything more?
I simply took my go-to pumpkin cake recipe and adapted it a little to make the cake 'healthier'. Because the original recipe uses refined sugar for sweetness. But I wanted to create some autumnal sweet goodness without the bad conscience afterwards. So if you're looking for something stickily sweet, this is probably not your cup of tea. But why not try something new, though? 😉
To give it a little twist I added sour cherries on top of the cake. Sadly I had to use preserved ones, because it's not the season right now. But the cake still came out pretty good. But next time I will definitely use frozen cherries, as they probably are more fruity and tart than the preserved ones. I recommend you do the same. Learn from my mistakes, friend 🙈
You can eat the cake just like that, or you follow my example and decorate it with creamy yogurt drizzle (highly recommended!). This gives the cake  a little extra freshness and makes it a bit more wonderful, too.
Anyways, now let's talk about something really important: Do you already have showered your home with all the pumpkins and fall decoration (yes, really important, I know *nods eagerly*)? Or are you more Team No-decoration-no-matter-the-holiday? If you tend more to be the second type, that's totally fine too, but make a small exception this year. 💛🍁 This cake is definitely worth it. Off to the market you go and diligently buy all the pumpkins. You are reading correctly! There's always the chance that my pumpkin cake will get you hooked, and that you'll be left with a desire for more.
Fancy more pumpkin, I mean. In whatever form … pumpkin decoration, pumpkin soup, pumpkin burger or even more pumpkin cake 🎃🎃🎃 October is simply THE pumpkin month, you cannot escape it 😜🤷
I'll be off now and get a giant pumpkin for our balcony. I will then prove my carving skills with it later this day. Since I have never done anything like that, that should be exciting. 😅 But for my little son (who is going to be 2 this Halloween 😱), I'll surely become a pumpkin artist soon. I always wanted to try it anyway.
If I'm successful, you'll soon be able to admire the finished piece on Instagram. There you can also post a photo of your cherry pumpkin cake and tag #sweetysveganbliss so I can admire it as well.
Have fun baking and enjoy the cake. 💛 Autumn is beautiful! 🍁🍂🌼🌾 xo, Romy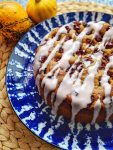 Pumpkin Cake with Cherries - vegan & naturally sweetened
Delicious juicy pumpkin cake with fruity cherries - just right for cooler autumn days. Vegan & sweetened with maple syrup only. Plus a fresh yogurt drizzle on top. Yum!
Course Tags:
Cake, Dessert
Tags:
cherries, kid-friendly, naturally sweetened, plant-based, pumpkin, vegan, vegetarian
Ingredients
Dry ingredients:
1,5

cup

wheat flour

1/3

cup

ground hazelnuts

1

Tbsp

backing powder

1

Tbsp

gingerbread spice

1

pinch of salt
Wet ingredients:
1

cup

pumpkin puree*

3/4

cup

maple syrup

1/4

cup

oil**

1

tsp

vanilla extract
Additionally:
1

heaped cup

sour cherries, pitted,

fresh or frozen & thawed
For the Yoghurt Drizzle:
2

Tbsp

coconut oil

2

Tbsp

rice syrup

2

heaped Tbsp

coconut yoghurt
Instructions
For the cake:
Heat your oven to 180°C | 355°F.

Grease a small round cake tin. Mine is 7 inches in diameter.

Put all dry ingredients in a baking bowl and mix with a whisk until no lumps are left.

Put all wet ingredients in a second bowl, stir well and then add to the flour mixture.


Stir everything with the whisk into a smooth dough (do not stir too long!) and fill half of the dough into the prepared cake pan.


Place half of the sour cherries on top and cover with the remaining dough. Put the remaining sour cherries on top.

Press lightly into the dough (about half way) and bake your cake for 50-55 minutes.

Let the finished cake cool on a cake rack before decorating it with the yogurt drizzle.

For the yoghurt drizzle:
While your cake is cooling, you can prepare the yogurt drizzle.

Let the coconut oil melt in a small pot, then remove the pot from the heat.

Add the rice syrup and stir until the syrup has dissolved.


Finally, add the yoghurt and stir well again.

Pour the drizzle in a bowl and put it in the fridge for 10-20 minutes until it is a bit creamier and firmer in consistency.

Decorate the cooled cake with it and place it in the fridge for at least 30 minutes before cutting it. Enjoy!

Notes
* For the pumpkin puree, simply chop a hokkaido pumpkin into cubes and cook gently in water for 10-15 minutes. Drain (keep a little of the cooking water!!) and puree with a blender until creamy. Finished!
Freeze remaining pumpkin puree or store in clean, air-tight glasses in the fridge (lasts for several months).
 
** Rapeseed oil or sunflower oil are good options.   I always choose organic produce whenever possible. It's not only better for my health (and yours, too), but also for our environment. 🌍💫💚