Today I will share one of my favorite autumn soup recipes with you.
A recipe for an oriental Lentil Soup with Peppers, Tomatoes & Ginger.
What do you think?
Could this please that belly of yours?
This soup is nothing like the gray-brown lentil stew, in which usually a thick bacon rind is swimming (which you may or may not still remember from your grandparents). Oh no, don't you worry, my friend! Luckily there are one million different ways to prepare lentils quite differently. 🧡
I was inspired by Indian Dals (or is it Dhals or Daals? 🤔) and created this fruity, light and aromatic lentil soup. Not only does it have a great vibrant color, it's also packed with good ingredients and fresh vegetables.
Lentils have a very high nutrient density and also provide valuable plant-based protein. Peppers and tomatoes bring vitamins and minerals into your soup. Above all, they are full of vitamin C and B vitamins as well as potassium, magnesium, zinc and calcium. And the tomatoes also contribute to lycopene, which can be better absorbed by the body after heating. Lycopene is a phytochemical with antioxidant properties, which i.a. is very good for your skin and strengthens its resistance. The spices provide an oriental aroma and by the way stimulate your digestion.
Just the right soup for cold autumn days. As there are a lot of them right now. 🍁🌬
It is best to soak the lentils in plenty of water for at least one hour (or even overnight). You should really treat yourself to this little extra effort, because by soaking the phytic acid in the lentil is reduced. This is important because phytic acid otherwise binds minerals such as calcium, magnesium or iron in your stomach and intestine and then these are no longer available to the body. Phytic acid is therefore also called Antinutrient.
In addition, lentils get generally more wholesome by soaking them and the risk of flatulence is reduced. It's best to pour away the soaking water and rinse the lentils well before cooking. And you're ready for your wholesome, healthy & tasty soup pleasure.
So, what are you waiting for? It's always the right time for a bowl of fragrant & warming lentil soup, especially in November (or actually the whole winter time, right?). Add a dollop of coconut yoghurt to the soup before serving and sprinkle some of my crispy roasted seed mix over it. Simply delicious! 🧡✨🍅 Enjoy! xo, Romy
Do you like my recipe? Say hello & leave me a little comment. Or simply follow me on Bloglovin to never miss a new post!
Thanks so much for sharing the love 😘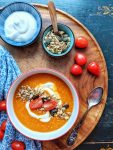 Oriental Lentil Soup with Peppers, Tomatoes & Ginger
Fresh & fruity lentil soup with lots of delicious veggies, creamy almond butter and warm oriental spices. Warming, invigorating & just right for the cold season.
Course Tags:
Dinner, Lunch, Main Course, Soup
Tags:
gluten-free, lentils, plant-based, vegan, vegetarian
Ingredients
1

cup

red lentils

1

Tbsp

coconut oil

1

onion,

diced

2

garlic gloves,

diced

1

thumb

fresh ginger,

peeled & diced

2

tsp

ceylon cinnamon

1/2

tsp

turmeric

1/2

tsp

coriander

1/4

tsp

pepper

3

small

carrots,

thinly sliced

18

oz

cherry tomatoes,

halved

2

bell peppers,

cored & chopped

3

cups

vegetable stock

1

Tbsp

coconut blossom sugar*

1

Tbsp

Nutritional Yeast

2

Tbsp

almond butter ,

(100% almonds)

pinch of salt
Additionally:
coconut yoghurt

roasted seeds
Instructions
Soak the lentils in 2 cups of water and leave them for about 1 hour.

(It's even better to already soak them the night before and leave them overnight.)

Heat the coconut oil in a large saucepan over medium heat and add onion, garlic & ginger. Sautée for a few minutes while stirring and then add the spices. Keep stirring until everything starts getting fragrant.


Add the tomatoes and let them soften and simmer for a few minutes.


Rinse the lentils in a colander and add them to the pot along with the carrots and peppers. Pour in the vegetable stock, stir well and let it simmer for 30 minutes.


Take the pot off the stove and blend the soup well with a hand blender.


If necessary, add the coconut blossom sugar and finally nutritional yeast flakes and almond butter. Taste, perhaps season with a little extra salt and enjoy.

Notes
* The amount depends on the sweetness of the tomatoes and peppers. For really sweet vegetables (or if you don't like it too sweet) you can reduce or just leave out the sugar.   I always choose organic produce whenever possible. It's not only better for my health (and yours, too), but also for our environment. 🌍💫💚