January is smoothie time 💚 Everyone is highly motivated and after all the holiday feasting, they want to do something for their health and their body. So how about a Green Detox Smoothie for breakfast?
But first of all: Hello & welcome to the new year 2019! 🎉🙂
Did you slip in well?
And did you maybe try one of my 19 amazing New Year's Eve Party recipes? I gave Sophie's Vegan 'Cheese' Fondue a try and it was a complete success. 💛🤤 I had to improvise a bit, because I couldn't find butternut squash at such short notice, but it tasted wonderful with hokkaido quash as well.
Once again I am fascinated that there are so many (and mostly even healthy) alternatives to conventional cheese. I would never have guessed before I went vegan. 🤷‍♀️ We dipped crispy baguette cubes, veggie sticks, pickles, pasta, Kalamata olives & fried mushrooms in the creamy-spicy veggie "cheese" and ate ourselves silly. Then there were homemade cocktails and I was able to persuade my sweetheart to a game night. Anyone who knows him can guess that this was no easy task.
Then came the fireworks 🎇✨🎆 and miraculously, our little son just slept through all the racket again this year. 🙌💃 And what was your New Year's Eve like? Wanna share some juicy details?
Anyways, it's January again. The year is still fresh and full of potential. Countless good intentions want to be put into action. Have you also set some goals for 2019? More sport? Eat healthier? Consume less? Stop smoking?
Whatever it is, I'm sure you can do it! Don't be too strict with yourself, but keep an eye on your goal. And maybe 2019 will be your year. 🍀 Incidentally, I've made up my mind to do yoga again regularly. Unfortunately, my practice has come a bit short in the last few months (it may or may not have something to do with blogging 😅).
If one of your goals is to start a healthier (and maybe even more plant-based) diet, I can even help you with this a bit. Today I have prepared a smoothie recipe for you. A Green Detox Smoothie actually.
The special feature of green smoothies is that in addition to fresh fruit, they consist for the most part of fresh (mostly) green vegetables. I like to use green or black kale, broccoli, baby spinach, cucumber or even zucchini.
If this whole green smoothie thing is still new territory to you and you wrinkle your nose a little just thinking of all this green stuff . . . Don't you worry! You almost won't taste the veggies in your smoothie. And what you'll taste isn't unpleasant, but very rather tasty indeed.
It's best to combine your greens with sweet fruits like (very ripe) bananas, pineapples, mangoes. Apples & oranges are a great choice, too. Today we also pack a ripe, sweet persimmon in our smoothie, so it'll get smooth & creamy. You can find them no problem in organic quality in supermarkets right now. They are currently in season. 😉
Today's smoothie is not just green & healthy. It has much more to offer. It's a detox smoothie. This means that it helps your body to get rid of over time stored toxins. You will feel lighter and have more energy. The ingredients for the detox smoothie are all small health boosters in themselves. Together they make a real powerhouse though. Perfect for a healthy new year's start, with a lot of energy and motivation.
Broccoli is a great calcium source and also contains iron, magnesium, potassium, folic acid & carotene. In addition, it has a cancer-preventing and even -inhibiting substance, sulforaphane and plenty of vitamin C. And you can never get enough of that right now in the cold period, right? 🙂
Cucumber also contains many minerals, e.g. calcium, phosphorus & zinc, as well as many B vitamins. And it has a dehydrating effect (hello, positive weight-loss effect).
Spinach is full of folic acid, vitamins C, E & K and, of course, iron.
Top off your green smoothie with a spoonful of barleygrass juice powder. Because barley grass is rich in chlorophyll, vitamins, minerals and enzymes. It regulates the acid-base balance and can help with hypertension & high blood sugar levels. In addition, it is a valuable source of plant-based protein and rich in antioxidants. Wow!
If you don't have the powder in your pantry yet, you can theoretically omit it. But I really like to add it to my green smoothies and I think it's such a great way to easily increase the value of your smoothie. Some people have to get used to the taste though (but I never found it annoying). Therefore, at the beginning you only take 1 teaspoon full per smoothie. Over time, you can gradually increase to up to 1 tablespoon. But then that's the amount for a very large smoothie serving of about 1 liter. 🙂
By the way, I absolutely recommend the purchase of a high-speed blender, especially for green smoothies. Although they are quite expensive at first glance, if you make smoothies regularly, the investment is well worth it. Ever since we got our blender, all 3 of us drink a big glass of smoothie every morning before breakfast. 🙂 This is really a great way to provide your little ones with vitamins from greens & veggies! (As you can see above 😁)
As vegetables have a harder structure than fruits, cheaper blenders simply are too low at speed to mix the vegetables into a well-digestible & creamy smoothie that will nourish your body.
The most popular brand of high-speed blenders is (as far as I know) the Vitamix¹. My best friend has one of these in her kitchen and absolutely loves it. Currently, on my kitchen counter there's a Bianco di Puro blender. We've already owned it for over three years and are totally happy so far. So if you want to invest in a professional high-speed blender, do some research and take the leap. It will definitely take your smoothies to the next level. 😉
There's just one more thing I want to get off my chest before we start mixing. Definitely always try to buy organic ingredients for your smoothies, if possible. Otherwise, a super healthy smoothie can quickly turn into a not so healthy pesticide soup. 🤢 And then it would be better to avoid drinking a smoothie altogether.
So, now let's go. All smoothie ingredients are ready and we can start mixing. Enjoy your Green Detox Smoothie and let me know if your healthy, green start to the day gives you just as much energy as it does give me every morning. 🙂
Green isn't the color of choice for your smoothie? You could always give my Purple Love Smoothie a go & happily slurp away. 💜 Cheers!
xo, Romy
Do you like my recipe? Save it to your  interest & follow me on Bloglovin to never miss a new post!
Thanks so much for sharing the love 😘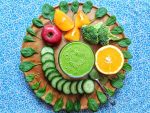 This creamy smoothie is a little detox wonder. Lots of green veggies provide vitamins, minerals & antioxidants. Sweet fruits top it off deliciously. 💚
Course Tags:
Breakfast, Drinks, Smoothie
Tags:
Broccoli, dairy-free, gluten-free, green, healthy, plant-based, spinach, vegan
Ingredients
1

large handfull

baby spinach

1/3

cucumber

2-3

broccoli florets

1/2

apple

1/2

persimmon

1

orange,

, juiced

1

Tbsp

hulled hempseeds

1

tsp

barley grass juice powder

1 cup |

250 ml

rice milk OR apple juice*
Instructions
Wash your fruits and vegetables thoroughly under running water.


Remove the apple core. Chop apple, persimmon & cucumber into medium sized chunks.


Put all the ingredients in your blender and mix until your smoothie has a creamy texture.

My mixer has a special program for green smoothies that lasts one and a half minutes. So it takes a while until everything is really well blended.

Pour the smoothie into a large jar and enjoy! The best way to do so is using a straw. 😉 Cheers!

Notes
* Depending on whether you like your smoothie rather puristic or fruity-sweet, you either add soy milk | almond milk | rice milk or just apple juice. Of course you can also mix the drinks.   I always choose organic produce whenever possible. It's not only better for my health (and yours, too), but also for our environment. 🌍💫💚
¹As an Amazon Associate I earn from qualifying purchases. Please note that I only recommend products that I personally use and love and I always have my readers' (that's you 🙂) best interest at heart.