Before I became a mom, I spent some time working in a small vegan cafe here in town. It was my job to bake delicious vegan cakes and muffins everyday and yes, it has quite a bit of a dream job to be surrounded by the scent of cake every single day and to be able to nibble away all the time, too (even if I had to do some extra yoga sessions to balance it 🧘‍♀️ ).
From time to time, the café also had vegan mousse au chocolat on the menu. And this is where I got the inspiration to this recipe. Back then, I was very surprised that you can make such a great mousse with only 4 ingredients (I added cinnamon and cardamom later) .
The preparation is very easy and really fool-proof. You only need 6 ingredients and 15 minutes time.
The vegan mousse au chocolat may not be as fluffy & airy as the 'original', but it's incredibly creamy and will melt on your tongue. The perfect dessert for all chocolate lovers out there.
Enjoy & bon appètit! xo, Romy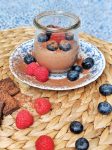 A wonderfully light and creamy mousse au chocolat without any eggs or dairy products!This dreamy chocolate mousse really convinces everyone. And it's even super easy and quick to prepare.
Tags:
chcolate, gluten-free, plant-based, vegan, vegetarian
Ingredients
100

g

vegan dark chocolate (60% cocoa)*

400

g

silken tofu

2

Tbsp

maple syrup

1/2

tsp

cinnamon

1/4

tsp

ground vanilla

1/4

tsp

cardamom
Instructions
Preheat your oven to 75°C | 150°F.

Break the chocolate into pieces and put them in a heat-proof bowl (e.g. porcelain). Place the bowl into the warm oven for about 10 minutes.

Stir the chocolate after 10 minutes to check, if everything is molten. If not, let it sit for another 5 minutes.

As the chocolate melts, open the silken tofu, drain excess liquid, and give it into a tall container. Now you blend the silken tofu creamy for about 30 seconds. (You can also use a food processor for this step.)


Then add the melted chocolate, the maple syrup & the spices and blend everything on the highest setting for 1-2 minutes until everything is nicely homogeneous, creamy and airy.


Fill the finished mousse into 4 dessert glasses and place these in the fridge for at least 1 hour. That's it!

If you like, you can decorate the mousse with fresh berries, cocoa powder, coconut chips or chopped nuts. 💛
Notes
* You can also use vegan milk chocolate for a sweeter, less chocolatey mousse. Or 80% dark chocolate for a very intense chocolatey mousse.   I always choose organic produce whenever possible. It's not only much better for my health (and yours, too), but also for our environment. 🌍💫💚