Eggplant sandwiches …
Does that sound funny in your ears?
At first glance, eggplants are probably a rather unusual type of spread, right? But believe me, these sandwiches mean quite a kick for your taste buds. The eggplant is sliced ​​and fried in the pan until nice & soft. Then, along with a delicious date-plum-mustard-dip, they are spread on crispy fresh bread. I like mine best with multigrain bread, but a hearty rye bread fits very well, too.
Finally, I garnish these creamy-delicate eggplant slices with a few roasted date pieces. And oh my gosh, there's your piece of heavenly soulfood right in front of you. 💛
But eggplants cannot only be damn tasty, they are also extremely healthy. I must admit, I didn't know that until recently. Because unfortunately, in Germany eggplants are usually dismissed as somewhat boring and tasteless (meaning = meaningless). But it only depends on the right preparation. 😉
The purple eggplant is a real powerhouse in the veggie world. It contains many antioxidants, minerals like calcium & magnesium, vitamins A, B, C & E and folic acid. They are good for the cardiovascular system, have a draining effect and support the liver in fat loss. So, get your eggplant & start cooking 🍆✨🍆
My eggplant sandwiches are a really quick & easy lunch or dinner. After only 20 minutes a healthy and delicious meal is on your table. And it even satisfies for a long time (a not to be underestimated point!), too. As a side, I usually serve a crisp garden salad with tomatoes, bell pepper and cucumber slices. This gives the whole thing some extra freshness and a few extra vitamins won't hurt either. 😋
Of course, there are countless other ways to make something delicious out of eggplants. For example, have you ever tried making Baba Ganoush? Or a delicious Eggplant Curry? You can even make Eggplant Wedges. Really! And they will melt on the tongue for sure. I discovered the recipe for this in the cookbook Green Kitchen Travels and since then, the delicious wedges have been on our table several times (especially in summer).
Anyways, I'm curious how you'll like this eggplant sandwiches. I'm always happy to hear from you. Your comments & feedback are very welcome and always make my day.
Enjoy your new favorite sandwich 😁 & see you soon! xo, Romy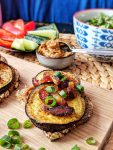 Eggplant Sandwiches with Date-Plum-Mustard
Roasted eggplant meets spicy-sweet date-plum-mustard and crunchy bread. An unusual veggie spread that turns everyone into an eggplant fan. You will love this! 💜
Course Tags:
Brunch, Dinner, Lunch
Tags:
date, eggplant, mustard, plant-based, vegan, vegetarian
Ingredients
2

Tbsp

olive oil

1

big eggplant

1/2

tsp

garlic powder

1/2

tsp

paprika powder

1/4

tsp

pepper

pinch of

salt

2

Medjool dates,

pitted

4

slices

wholegrain or sourdough bread
For the dip:
3

tsp

medium hot mustard

2

tsp

plum jam

2

Medjool dates,

pitted

1/4

tsp

garlic powder

1/4

tsp

turmeric
Additional:
1

spring onion,

sliced

sesame seeds (optional)
Instructions
Wash the eggplant and cut into slices about 1 cm | 0,5" thick.

Heat 1 tbsp of the olive oil in a non-stick pan over medium heat and fry the aubergine slices for about 5 minutes from one side.

Then turn over and add another tbsp of oil to the pan to allow the other side of the slices to brown well. Roast again for 5 minutes.

Turn the eggplant slices again and reduce the heat. Now season with garlic, paprika, salt & pepper. Halve the dates and cut into pieces and add to the slices in the pan, turning now & then. Leave on the stove for another 5 minutes. If the slices have a fairly soft consistency, then they're done.


While the eggplant is frying, prepare the mustard dip.

Mash the dates well with a fork, add the remaining ingredients and mix until everything comes together - done!

Now build your sandwich:

Butter 1 slice of bread with 1/4 of the mustard dip, cover with 3-4 eggplant slices, spread 1/4 of the fried date pieces on top and garnish with spring onion and sesame.
Notes
*Fresh from the bakery around the corner or a little toasted for the perfect crunch.   I always choose organic produce whenever possible. It's not only better for my health (and yours, too), but also for our environment. 🌍💫💚