As I write this, I'm sitting on my balcony in the sun (it's only half as idyllic as it may sound, because one of those nice leaf blowers is getting on my nerves 🙈), eating corn waffles & wondering how to best convince you, that you need this Vegan Kale Pesto in your life.
Well, let's see … there are quite a few reasons I guess:
it's whipped up in the blink of an eye
it's also a delicious dip
it's packed with good stuff (kale, basil, nuts, seeds) and really healthy
even little eaters are thrilled (my little eater definitely is)
the beautiful green color just makes you feel good
and the most important reason – it just tastes incredibly yummy
And since I have replaced most of the olive oil (which normally makes up a big part of every pesto) with plant-milk, it's really a lighter version of the classic pesto.
Instead of parmesan, I just added nutritional yeast, which in addition to the cheesy aroma, also give the pesto plenty of vitamins and minerals. Vitamins B1, B2 & B6 are at the top of the list.
So next time you come home a little later and need a quick and delicious dinner, then just make yourself a huge plate of pasta with this wonderful kale pesto.
While your noodles are cooking, you quickly stir up the pesto and after only 20 minutes you can start feasting. If you're feeling fancy you can cut a few cherry tomatoes on top as a fruity dash of color and then make yourself comfortable on the sofa with your plate of soulfood heaven.
Bon Appetit! XO, Romy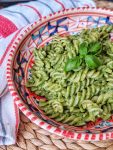 Pesto with a twist - vegan and with fresh kale, roasted walnuts and sunflower seeds. Quick & easy to prepare, delicious & healthy. 💚

Course Tags:
Dip, Main Course, Side Dish
Tags:
kale, Pesto, plant-based, vegan
Ingredients
250

g

pasta of your choice

30

g

sunflower seeds

30

g

walnuts

60

g

fresh kale

1

handful

fresh basil

5

Tbsp

nutritional yeast

1

tsp

garlic powder

pinch of salt

2-3

Tbsp

good olive oil

1/2

Lemon

juice of the lemon

5

Tbsp

oat milk (or more)
Instructions
Bring a pot of water to a boil and cook your pasta 'al dente'.

While your pasta is cooking, prepare the pesto.

First put the sunflower seeds and walnuts into a pan and roast them over medium heat for about 5 minutes until they turn golden.

Thoroughly wash the kale, remove the stems and place the kale with all remaining ingredients in a tall container.

Blend everything creamy with a hand blender. If the pesto is still too thick for you r liking, add one tablespoon of oat milk at a time until the consistency is right for you.

Put the cooked pasta in a large bowl and mix it with the pesto.

Sprinkle it with some vegan nut-parmesan and enjoy! 💚
Notes
I always choose organic produce whenever possible. It's not only better for my health (and yours, too), but also for our environment. 🌍💫💚